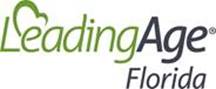 LeadingAge Florida, Florida's only association representing the entire continuum of care for older adults, issued a statement today following the passage of the Personal Care Attendant (PCA) legislation.
The following statement is attributable to President and CEO Steve Bahmer.
"We appreciate Rep. Garrison and Sen. Bean for their leadership and the legislature for its support in passing legislation that will help alleviate workforce pressures and build our future long-term care workforce.
The workforce shortage in long-term care is an ongoing challenge that has only been exacerbated by the COVID-19 pandemic. The PCA program is a valuable way to recruit more people to work as certified nursing assistants (CNAs) and promote job growth.
Nearly 2,000 individuals have been hired as a PCA since this program was enacted and over 85% of those who have taken the CNA exam have advanced into permanent positions as CNAs.
This is one more example of how the Florida legislature continues to put seniors first by ensuring our long-term care facilities have the resources they need to provide the highest quality of care."
For more than 57 years, LeadingAge Florida has been the state's leading advocate for high-quality senior living, aging services and care. We are the only statewide association representing the full continuum of care for seniors. The Association provides up-to-date regulatory information, a wide variety of educational opportunities, representation before the Legislature and government agencies, group purchasing services, and opportunities for networking with peers to help member communities best serve the needs of Florida's senior population.