Florida A&M University (FAMU) outgoing Student Government Association (SGA) President Xavier McClinton was recognized for his leadership role in the U.S. Attorney for the Northern District of Florida Office's community outreach program.
McClinton, who recently received his bachelor's in economics during one of four spring commencement ceremonies at the Alfred Lawson Jr. Multipurpose Center, was honored for "leadership and outstanding contributions in support of community engagement roundtable."
McClinton was one of the community participants in the U.S. Attorney Office's "A Seat at the Table" program.
"I didn't know I would be receiving this award and it really caught me by surprise," said McClinton, who was delighted by the opportunity to be recognized for his efforts and to speak with Acting U.S. Attorney Jason Coody. "It was a really good experience."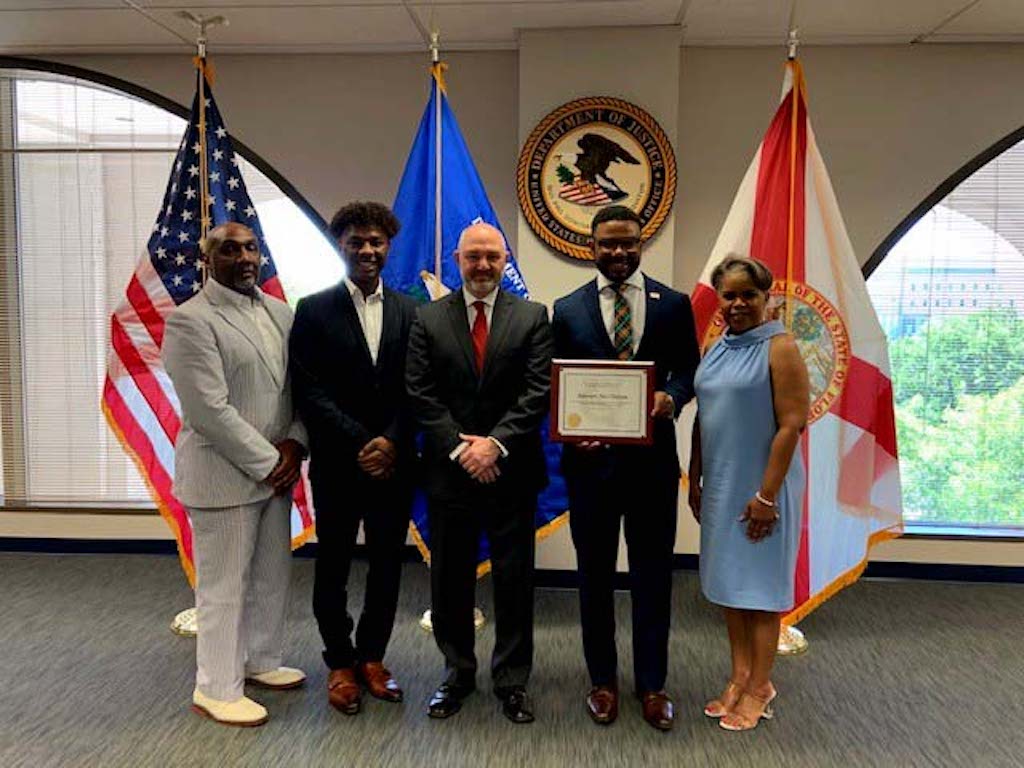 As part of the community engagement roundtable, McClinton said the group had an agenda to focus on three areas: efforts for diversity inclusion, set new standards and policies across the enterprise and build relationships between the African American community and law enforcement.
"We gave them some feedback on their current program and on ways they could improve it," said McClinton, who as the 2020-2021 SGA president also served on the FAMU Board of Trustees.
McClinton was able to assist with the Building Lasting Relationships Between Police and Community (BLAST) Program. This was something that hit close to home for him. His father served as a police officer for 27 years and continues to participate in different roundtable discussions within Glynn County, Georgia, and at the federal level.
"I remember when I got ready to do this roundtable, I called him to get an inside opinion," said the Brunswick, Georgia native. "He's been working to help improve the relationships between the African American community and law enforcement. I think it was pretty cool for him to see me get this honor and know that I am trying to pick up the mantle even though it's at a much smaller scale."