Program successfully running at seven vaccination sites in Florida
AshBritt, Inc., a national leader in emergency management operations headquartered in South Florida, has teamed up with Best Buddies in Florida to create the Buddy Pass Program, which offers support to individuals with intellectual and developmental disabilities seeking the COVID-19 vaccine. The program is successfully running at the seven Florida Division of Emergency Management vaccination sites operated by AshBritt-IEM Health, from Jacksonville to Miami.
AshBritt recognized there was an opportunity to ensure that individuals of all intellectual and development abilities had a safe, accessible experience at COVID-19 vaccine administration sites. AshBritt and Best Buddies created the Buddy Pass, as a tool to communicate that a person may need accommodations.
"The vaccination process can be unsettling for anyone, and vaccination sites, particularly large ones, can create a barrier for individuals unsure about their access to accommodations," AshBritt CEO Brittany Perkins Castillo stated. "AshBritt partnered with Best Buddies to create a program that helps individuals and families identify if they need additional support at the vaccine site and that incorporates volunteers to support the process."
Here's how it works: individuals with intellectual or developmental disabilities can email Best Buddies at [email protected] and request a free Buddy Pass, which can be used at any of the seven AshBritt-IEM Health sites to communicate that you may need additional support. Additionally, the Buddy Pass can be brought to the Best Buddies tent at Bucky Dent Stadium in Hialeah or Broward College North in Coconut Creek where a Best Buddies staff member greets individuals and guides them through the vaccination process, answering questions and providing extra support if needed. Best Buddies representatives are on-site at Bucky Dent and Broward College North on Tuesdays and Saturdays from 9 a.m. to noon, and Wednesdays from 1 to 5 p.m. On May 1st, AshBritt and Best Buddies held a one-day Buddy Pass volunteer event at the Fort Pierce Recreation Center, with volunteers on hand to guide community members through the vaccination process.
AshBritt-IEM Health runs one vaccination site in Jacksonville and six in South Florida for the Florida Division of Emergency Management: Bucky Dent Stadium, Broward College North Campus, Hard Rock Stadium in Miami Gardens, Vizcaya Park in Miramar, the Overtown Youth Center in Miami, and the Fort Pierce Recreation Center.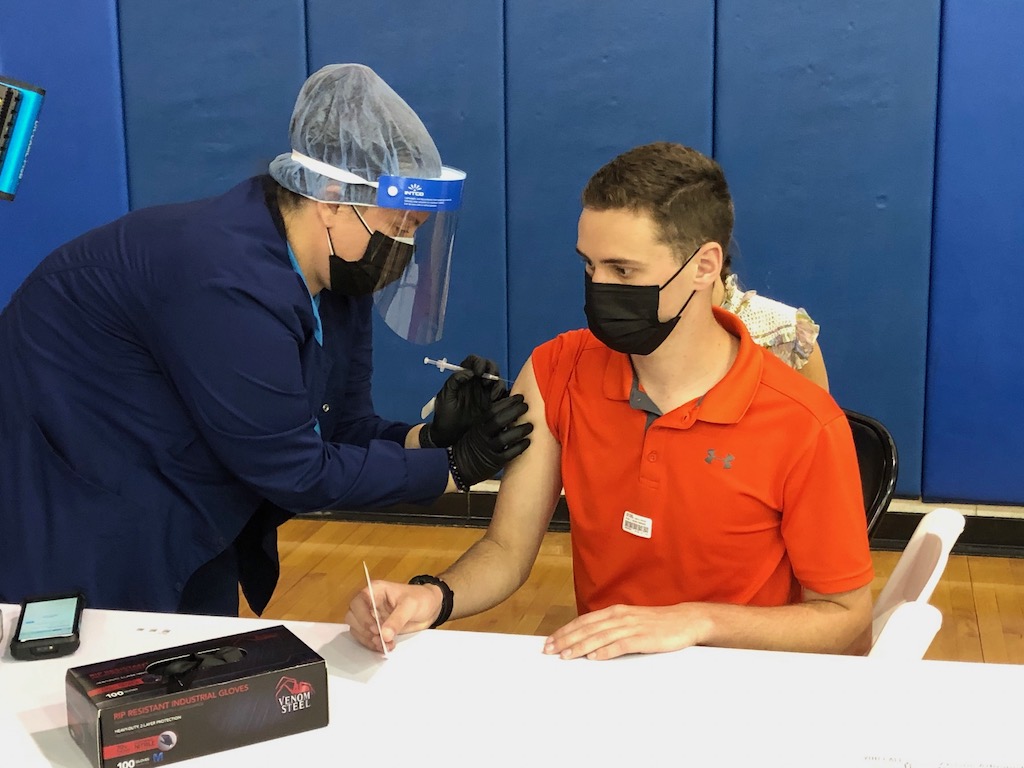 Buddy Pass participant 18-year old James Knight, accompanied by his mom Maria, gets his first dose of the Pfizer vaccine at the AshBritt-IEM Health vaccination site at Bucky Dent Stadium in Hialeah on April 24, 2021.