Citrus Grove Elementary's Francisco Garaitonandia one of five to vie for top award
During a surprise visit to Citrus Grove Elementary School, the Florida Department of Education today announced that art teacher Francisco Garaitonandia is a 2022 Florida Teacher of the Year state finalist. On hand to make the announcement were K-12 Public Schools Chancellor Jacob Oliva and Deputy Chancellor for Educator Quality Dr. Paul Burns. The 2022 Florida Teacher of the Year will be named on July 22 in Orlando.
Frank Garaitonandia has dedicated his 18 years in education to providing a creative spark to motivate his students. Mr. Garaitonandia created a Kindness Mural Project at his school to honor and support kind acts. The project brought together students, staff and community members. In addition, he has promoted the integration of art into multiple subjects by presenting STEAM workshops throughout Volusia County. In 2016, Frank was a nominee for the Hispanic Excellence in Education Award. He has a Bachelor of Fine Arts Degree from the University of Florida.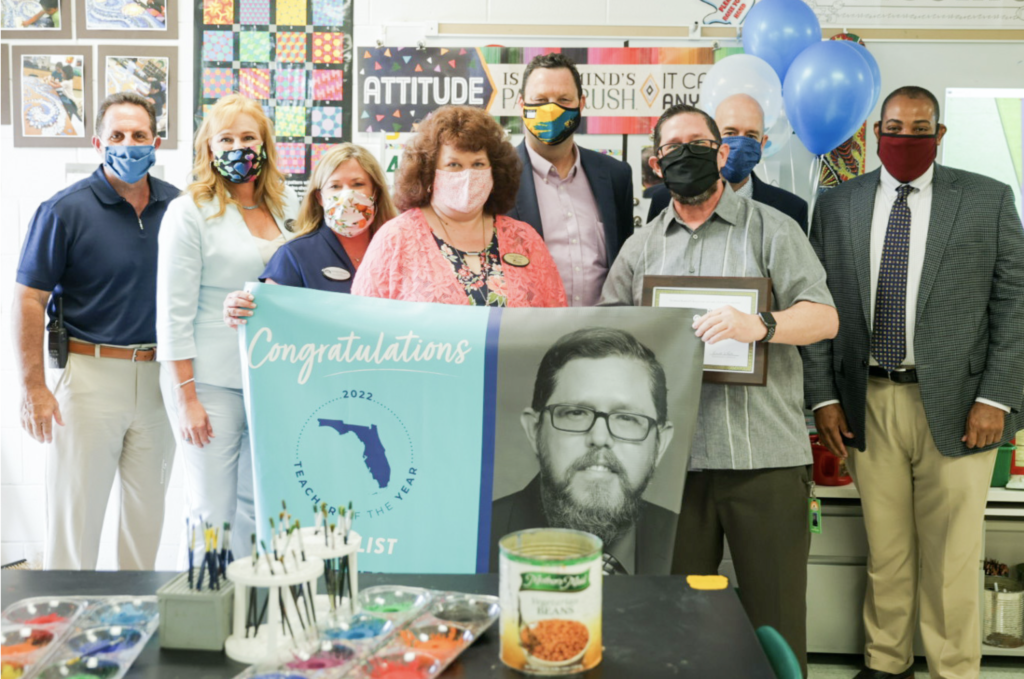 "My congratulation to Francisco Garaitonandia as one of five 2022 Florida Teacher of the Year state finalists, said Commissioner of Education Richard Corcoran. "His dedication to his students and their educational success has spanned more than 18 years. We are honored to see the continued devotion to education Mr. Garaitonandia shows and proud to have him as one of Florida's outstanding educators."
Volusia County Schools Superintendent Scott Fritz said, "Mr. Garaitonandia is an educator who has impacted the lives of students, colleagues and the community."
Citrus Grove Elementary School Principal Jennifer Williams, said "For the last several years, I have had the pleasure of seeing Mr. G and his students in action, and I can honestly say that he is one of the most talented teachers I have seen in our profession."
This year's five 2022 Teacher of the Year state finalists were chosen from more than 185,000 public school teachers throughout the state. After each school district selects its teacher of the year, a selection committee representing teachers, principals, parents and the business community reviews each district application on the basis of outstanding ability to teach and communicate knowledge of the subject taught, professional development, philosophy of teaching and outstanding school and community service. The winner will also serve for one year as the Christa McAuliffe Ambassador for Education.
In partnership with the Florida Education Foundation, the Florida Teacher of the Year program is made possible by these generous sponsors: Florida Prepaid, State Farm, Gulf Power Foundation, Helios Education Foundation, Florida Blue Foundation, Herff Jones and Florida State University College of Education.
For more about the Florida Teacher of the Year program, please visit Florida Teachers Lead.
For more information about the Florida Department of Education, visit www.fldoe.org.