Eisenhower Elementary's Sarah Ann Painter one of five to vie for top award
The Florida Department of Education today named Sarah Ann Painter, a fifth grade teacher at Eisenhower Elementary School in Pinellas County, as a 2022 Florida Teacher of the Year state finalist. On hand to make the announcement were State Board of Education Chair Andy Tuck, K-12 Public Schools Chancellor Jacob Oliva and Deputy Chancellor for Educator Quality Dr. Paul Burns. The 2022 Florida Teacher of the Year will be named on July 22 in Orlando.
Ms. Painter organized common planning and collaboration for fifth-grade teachers throughout the district and created an open-door policy for colleagues to observe her instructional practices. She is the chairperson for the School Advisory Council, the representative for English language arts and the school liaison for the extended school day program. Sarah Ann has a Master's Degree in Curriculum and Instruction from the University of Florida.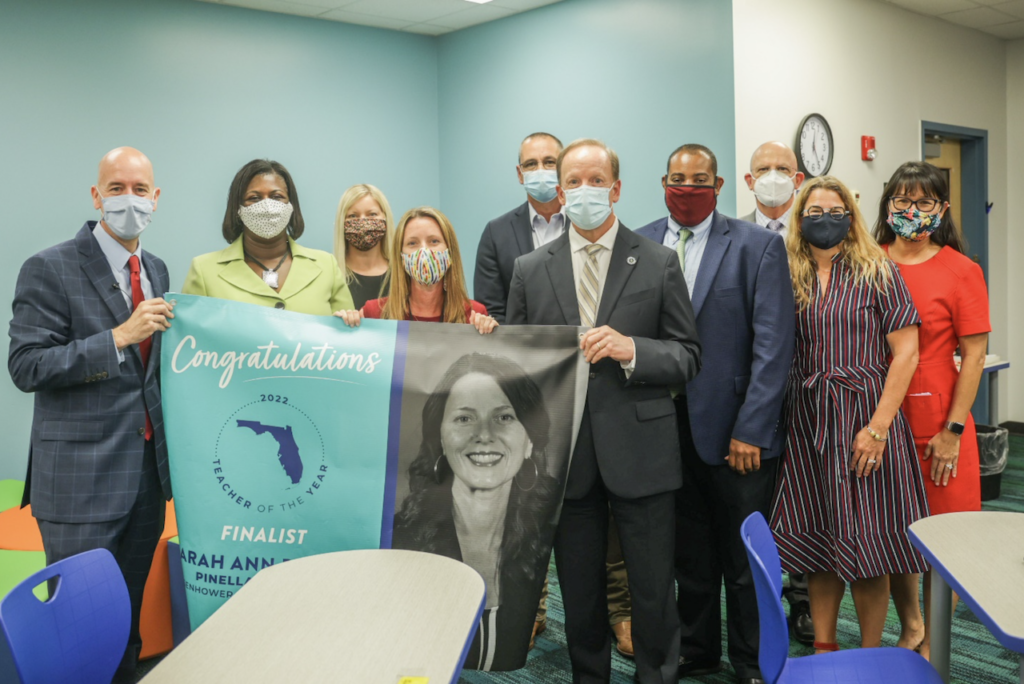 "My congratulations to Sarah Ann Painter as one of five 2022 Florida Teacher of the Year state finalists, said Commissioner of Education Richard Corcoran. "Sarah's devotion to her students will continue to mold them into the best that they can be and give them the tools needed to become successful. It is an honor to have teachers like Ms. Painter in our state's education system."
This year's five 2022 Teacher of the Year state finalists were chosen from more than 185,000 public school teachers throughout the state. After each school district selects its teacher of the year, a selection committee representing teachers, principals, parents and the business community reviews each district application on the basis of outstanding ability to teach and communicate knowledge of the subject taught, professional development, philosophy of teaching, and outstanding school and community service. Five state finalists are selected and the winner will also serve for one year as the Christa McAuliffe Ambassador for Education.
Pinellas County Schools Superintendent Dr. Michael Grego stated, "Ms. Painter is an asset to Pinellas County Schools and the teaching profession as she regularly has diverse classrooms of students and she pushes all students to be their best selves."
Eisenhower Elementary School Principal Antoinette Wilson said, "Through Ms. Painter's passion, high expectations and relational teaching approach tremendous growth will be achieved in each of her scholars."
In partnership with the Florida Education Foundation, the Florida Teacher of the Year program is made possible by these generous sponsors: Florida Prepaid, State Farm, Gulf Power Foundation, Helios Education Foundation, Florida Blue Foundation, Herff Jones and Florida State University College of Education.
For more about the Florida Teacher of the Year program, please visit Florida Teachers Lead.
For more information about the Florida Department of Education, visit www.fldoe.org.