Fruitville Elementary's Kari Johnson one of five to vie for top award
The Florida Department of Education today named Kari Johnson, a kindergarten teacher at Fruitville Elementary School in Sarasota County, as a 2022 Florida Teacher of the Year state finalist. On hand to make the announcement were State Board of Education Chair Andy Tuck, K-12 Public Schools Chancellor Jacob Oliva and Deputy Chancellor for Educator Quality Dr. Paul Burns. The 2022 Florida Teacher of the Year will be named on July 22 in Orlando.
Kari has been a Kindergarten Teacher at Fruitville for the past 15 years. She was recognized for outstanding literacy instruction, which led to her classroom becoming a model for her school and district. Ms. Johnson serves as a member of the school's positive behavioral support committee, a mentor to novice educators and the leader for her team and professional learning community. She has a Master's Degree in Elementary Reading and Literacy from Walden University.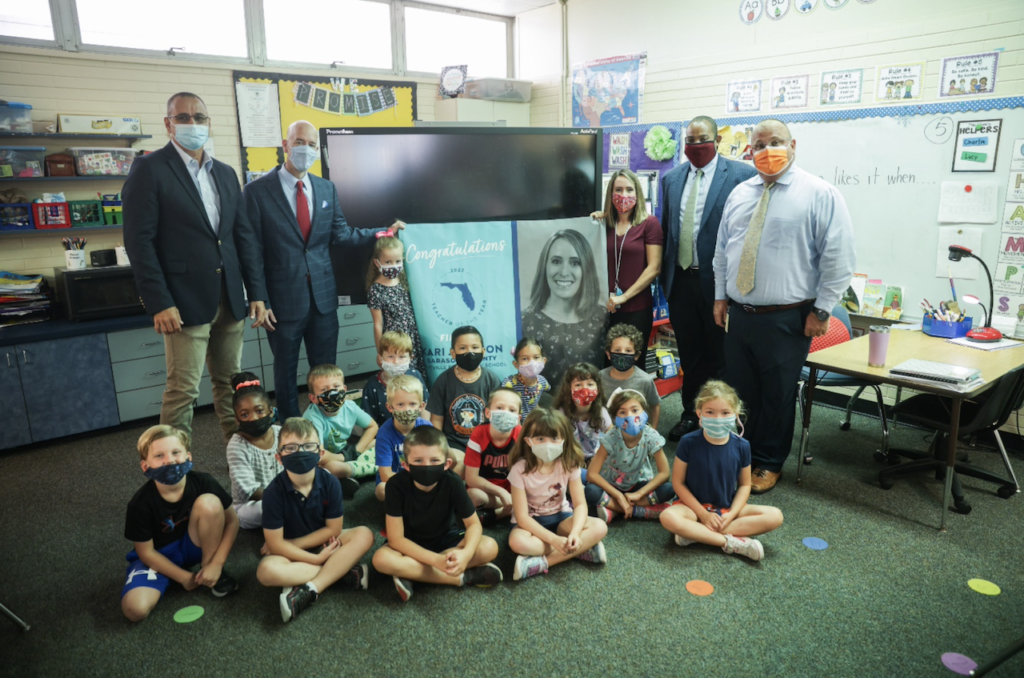 "My congratulations to Kari Johnson as one of five 2022 Florida Teacher of the Year state finalists," said Commissioner of Education Richard Corcoran. "Literacy is the foundation for success and giving young children the tools they need to become successful learners is of the utmost importance. Having great teachers in front of our students is imperative to their success and we are proud to have dedicated teachers like Ms. Johnson as part of our education system."
Fruitville Elementary School Principal Steven French remarked, "If you are fortunate enough to spend any amount of time with Ms. Johnson, you will see that she is an energetic, hardworking, caring and progressive thinking educator who goes above and beyond to get the best from and for all students."
This year's five 2022 Teacher of the Year state finalists were chosen from more than 185,000 public school teachers throughout the state. After each school district selects its teacher of the year, a selection committee representing teachers, principals, parents and the business community reviews each district application on the basis of outstanding ability to teach and communicate knowledge of the subject taught, professional development, philosophy of teaching and outstanding school and community service. The winner will also serve for one year as the Christa McAuliffe Ambassador for Education.
In partnership with the Florida Education Foundation, the Florida Teacher of the Year program is made possible by these generous sponsors: Florida Prepaid, State Farm, Gulf Power Foundation, Helios Education Foundation, Florida Blue Foundation, Herff Jones and Florida State University College of Education.
For more about the Florida Teacher of the Year program, please visit Florida Teachers Lead.