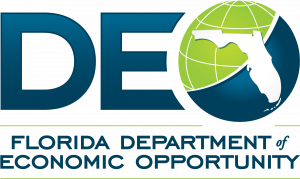 The Florida Department of Economic Opportunity (DEO) today announced another key step to returning more Floridians to work, following April's labor statistics which show total private-sector employment increased by 18,800 jobs and more than 460,000 online job postings available throughout the state for job seekers. Florida will end its participation in the Federal Pandemic Unemployment Compensation program, the $300 per week supplemental FPUC payment, effective June 26, 2021, as part of DEO's 'Return to Work' initiative.
Note that the additional federal Reemployment Assistance benefit programs, including Pandemic Unemployment Assistance (PUA), Pandemic Emergency Unemployment Compensation (PEUC), and Mixed Earners Unemployment Compensation (MEUC), will continue for the time being as DEO continues to carefully monitor job posting and industry hiring trends. These additional federal benefit programs are set to expire on September 6, 2021.
"Thanks to Governor DeSantis' leadership, Florida's economy has bounced back tremendously with over 460,000 jobs available throughout our state and the strongest economic conditions in the nation," said Dane Eagle, Secretary of the Florida Department of Economic Opportunity. "Florida's employers are also seeing employment growth, as more Floridians, including some who completely left the workforce, are now eagerly reentering the workforce. Transitioning away from this benefit will help meet the demands of small and large businesses who are ready to hire and expand their workforce."
For the week beginning June 27, 2021, eligible Reemployment Assistance claimants will no longer receive the supplemental $300 weekly FPUC payment.
Florida has gained nearly 800,000 private-sector jobs since the beginning of the COVID-19 pandemic, and there are more than 450,000 online job postings throughout the state for job seekers. Florida businesses and employers are hiring across the state and need unemployed Floridians to return to the workforce.
Hear what Florida's business leaders and local businesses are saying about Florida ending participation in the FPUC program:
Florida Restaurant and Lodging Association President and CEO, Carol Dover said, "Florida's hospitality industry was one of the hardest hit industries during the COVID-19 pandemic. Even though our industry is open for business, we are facing a dire labor shortage. Strong demand, coupled with this staffing shortage, has left many businesses forced to limit operating days and hours in addition to reducing capacity in both food service and lodging. Ending the supplemental $300 FPUC payment will help the industry regain pre-COVID levels. We encourage all Floridians to explore opportunities in Florida hospitality and envision a career with a future. Our industry is looking for our next generation of leaders. Visit FRLA.org for more details."
Florida Chamber of Commerce President and CEO, Mark Wilson said, "The decision to end Florida's participation in the FPUC program is essential to keeping Florida's economic momentum going that Governor DeSantis has had such a big role in creating. Florida currently has more than 450,000 jobs available throughout the state. This single action will help fill thousands of these vacancies and aid in ending the worker shortage throughout the state.
Associated Industries of Florida Senior Vice President of Federal and State Affairs, Brewster Bevis said, "Florida's decision to end the weekly supplemental FPUC payments will greatly help in getting Floridians to return to work. Florida is facing a labor shortage that is hurting not only small businesses but industries throughout the state that help drive our economy in a big way. It is significant that Governor DeSantis and our state are taking action, just like this one, to help our economy return to pre-pandemic levels of success and end the labor shortage."
Florida Retail Federation President and CEO, Scott Shalley said, "We have been thankful throughout the pandemic for Governor DeSantis' leadership, guidance, and prioritizing not only Floridians but businesses as well. On behalf of the retail businesses we serve, we are thankful for Florida's decision to end its participation in the supplemental FPUC program. We welcome those returning to the workforce into the available jobs throughout the retail industry."
National Federation of Independent Business in Florida Executive Director, Bill Herrle said, "We are thankful that Florida is choosing to end the federal supplemental unemployment payments in order to help alleviate Florida's worker shortage. Finding workers has been the biggest challenge for businesses throughout the state. Removing this additional benefit will hopefully encourage Floridians to reenter the workforce and contribute towards the state's economic success."
Allen Turner Automotive of Pensacola Owner, Allen Turner said, "The economy in Florida is strong, hampered only by the workforce. We need to take the long view and ensure that it stays that way. I applaud our leadership here in Florida for helping all businesses."
Altrua Global Solutions of Tallahassee CEO and Owner, Melode Smelko said, "Governor DeSantis has worked so hard throughout the pandemic supporting our business and others. Our company has been in business for more than 40 years, surviving recessions, technology changes, business shifts, and now the COVID-19 pandemic. Daily, we struggle to find qualified employees willing to work. We are hopeful that Florida's decision to end participation in the supplemental $300 benefit payments will encourage people to look for jobs and return to the work force. This decision will assist our company, as well as many other Florida employers, be able to fill crucial positions."
Amazing Explorers Academy of Central Florida Co-Founder and Principal, Marcello Spinelli, said, "Amazing Explorers is a pioneer in the STEAM curriculum development, and we believe in beginning this development with infants. Science is the foundation in every career, and children need time and encouragement to explore, investigate, and learn. With the STEAM industry advancing so quickly in Florida, the early advancement for Florida's youth is more important now than it ever has been. Currently, we have 11 locations in Central Florida, and we welcome those looking to become part of our team. Governor DeSantis has supported the advancement of the STEAM industry by providing investments throughout the state. Now it is time to do our part. Join our team, help make Florida the leading state for STEAM development."
American Vinyl Company of Hialeah VP of Operations, Ryan Wiborg said, "Due to bonus unemployment benefits, direct stimulus payments, and other government handout programs, our company is finding it harder to retain current employees and hire new ones. Even with increased wage offers that would have previously yielded hundreds of applicants, nobody is coming through our doors looking for a job. Inflation is already here. Washington doesn't seem to realize the mess they've made, but we are grateful Governor DeSantis didn't sleep through Economics."
Doc Ford's of Southwest Florida and St. Petersburg Owner, Marty Harrity said, "We are always looking to expand our operations, and this past year has posed quite a challenge. We value the staff that work hard in maintaining Doc Ford's locations in Tampa Bay and South Florida. We take pride in rewarding our employees because we want them to stay with us and make the restaurant industry a prosperous career path. Our team looks forward to expanding, embracing new team members, and operating at full capacity. With the state of Florida withdrawing from the additional $300 benefit payments, we are one step closer."
Eastern Shipbuilding Group, Inc. of Panama City President, Joseph D'isernia said, "We are the largest private employer in Bay County and are growing rapidly to meet the needs of our commercial and government customers. The COVID-19 pandemic has added to the challenge of hiring and retaining skilled employees, so it is encouraging to see Floridians re-enter the workforce. We welcome the opportunity to have them join our team of accomplished builders of national defense and commercial vessels. This all plays a crucial role in our economy as well as improving the quality of life for individuals in our area and their families."
El Coqui Bakery of Deltona Co-Owner, Jasmarie Rosa Hernandez, said, "Throughout the pandemic we have kept our doors open, though it has come with a steep cost. The additional fees to keep people safe and the rise of food costs have added up. It has been difficult to find employees to join our team as well. I am thankful things are going back to normal, and we look forward to growing our team and our business in the sunny days ahead."
Metro Deli of Tallahassee Owner, Rob Bazemore said, "Metro Deli has struggled throughout the COVID-19 pandemic. Now that we are well into our recovery, our industry is struggling to meet the public demand because of a lack of staff. Thankfully, we run a smaller operation and I have a very loyal team that steps in and covers during great times of need. I hope that ending the supplemental benefits will encourage Floridians to return to work and allow small businesses across the state the ability to hire more people and help Florida fully recover."
Olio Restaurant of Jacksonville Owner, Greg DeSanto said, "For the past few months, business at Olio has been increasing, and hopefully on its way to returning to pre-COVID levels. Unfortunately, It's been a real challenge to find qualified workers to fill positions in the restaurant, that let us maintain the level of service we strive to provide to our customers, many who have stuck with us through these tough times. Many restaurants and other small businesses across Jacksonville, and all of Florida, are facing these same hurdles, and it is the reason I believe today's action of ending supplemental unemployment payments will help Floridians return to work, and businesses like ours across the state find workers that we are so desperately in need of."
Spottswood Companies of Key West President of Spottswood Management, Robert Spottswood, Jr. said, "The hospitality industry has taken quite a hit from the COVID-19 pandemic, and the days ahead seem to be promising. We are a family owned business built upon the foundation of tradition, passion, experience, and diligence. We believe in building better communities. With that, we look forward to adding to our company's footprint by expanding our operations and providing jobs for more families. Governor DeSantis has been instrumental in keeping our state open for business and we need to do our part and continue operating as such."
About DEO
The Florida Department of Economic Opportunity combines the state's economic, workforce and community development efforts, expediting economic development projects to fuel job creation in competitive communities and promote economic resiliency.
DEO administers the state's Reemployment Assistance program which provides state and federal unemployment compensation benefits in addition to the supplemental FPUC payments to claimants.
For more information, including valuable resources for employers and job seekers, please visit www.FloridaJobs.org.