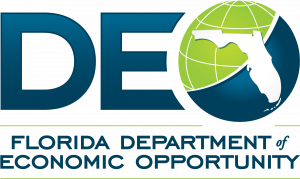 The Florida Department of Economic Opportunity (DEO) today highlighted the 2021-2022 budget, signed by Governor DeSantis, which bolsters Florida's communities, ensures the success of Florida businesses, and benefits all Floridians. These important accomplishments and achievements will continue to ensure Florida's resilience for future generations.
"I want to thank Governor DeSantis and the Florida Legislature for their steadfast leadership in passing a balanced budget and promoting sound policy that keeps Floridians at the forefront," said Dane Eagle, Secretary of the Florida Department of Economic Opportunity. "Thanks to their collaborative efforts, the Department has the resources necessary to enhance and modernize our state's unemployment system while supporting Florida's businesses and workforce to continue fostering job growth."
Budget Highlights
As part of the General Appropriations Act signed by the Governor, the Florida Legislature provided $92.4 million in state and federal funds for continued operations and to modernize the state's unemployment system. This funding will allow DEO to provide a more user-friendly experience for claimants applying for Reemployment Assistance benefits.
$74 million, including $24 million carried forward from earlier budgets, was allocated to support the Florida Job Growth Grant Fund. The grants will assist communities in funding workforce training and public infrastructure projects to support growth and employment in Florida.
$75 million was allocated to fund VISIT FLORIDA, the state's official tourism marketing corporation and one of DEO's partners.
This year's state budget also created the Reimagining Education and Career Help (REACH) Act, which provides $100 million to modernize Florida's workforce system by creating a statewide framework to provide services and produce results for Floridians seeking work.
Another DEO partner, Space Florida — designed to strengthen Florida's position as a global leader in aerospace research, investment, exploration, and commerce — was allocated $6 million for the aerospace industry financing fund.
For more information on these funded initiatives that will benefit Floridians, click here.
About DEO
The Florida Department of Economic Opportunity combines the state's economic, workforce and community development efforts, expediting economic development projects to fuel job creation in competitive communities and promote economic resiliency. For more information, including valuable resources for employers and job seekers, please visit www.FloridaJobs.org.