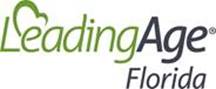 LeadingAge Florida, Florida's only association representing the entire continuum of care for older adults, has been awarded a $1 million Civil Monetary Penalty (CMP) grant through CMS Region 4 and the Agency for Health Care Administration for its joint Eldergrow GARDEN project. The project will implement therapeutic horticulture programs in 22 nursing homes across the state and enhance the quality of life for seniors living in these communities.
"Residents in our communities have been isolated due to the COVID-19 pandemic, and this innovative project will help deal with that isolation through a focus on their psychosocial and physical wellbeing," said Steve Bahmer, President and CEO of LeadingAge Florida. "Not only does the GARDEN project make nature more accessible, therapeutic horticulture is a scientifically proven, non-pharmacological approach to wellness for residents living in a skilled nursing facility. We are confident that the Eldergrow GARDEN project will provide enormous benefit to our residents, and to the families and staff who provide direct care and support."
"We are incredibly honored to partner with LeadingAge Florida," said Eldergrow CEO & Founder Orla Concannon. "They are always in the foreground, advocating for their members. We couldn't be more thrilled to bring Eldergrow into their communities, and to work alongside their staff and residents!"
The GARDEN project is an interactive and purposeful long-term care resident program that brings nature indoors with mobile, indoor therapeutic sensory gardens and a team of Eldergrow Educators who teach therapeutic horticulture classes. The program focuses on six therapeutic wellness goals set forth by the American Horticultural Therapy Association: socialization, cognitive stimulation, sensory stimulation, spatial awareness, motor skills, and creative expression.
Nursing homes set to receive the gardens include:
Bay Village
Bon Secours St. Petersburg
Cypress Cove at HealthPark Florida
Edgewater at Boca Pointe
Florida Presbyterian Homes
Good Samaritan Center / Advent Christian Village
Harbour Health Center
John Knox Village
Lourdes Noreen McKeen
Manor at Carpenters
MorseLife Health System
River Garden Senior Services
Sunnyside Village
Tri-County Nursing Home
Vicar's Landing Health Center
Water's Edge at Sandhill Cove
Westminster Suncoast
Westminster Towers
Westminster Woods on Julington Creek
WillowBrooke Court at Azalea Trace
WillowBrooke Court at Indian River
WillowBrooke Court at St. Andrews
The initiative will be led by LeadingAge Florida in partnership with Eldergrow, senior living administrators, and with the support of staff, families, volunteers and interns.
For more than 57 years, LeadingAge Florida has been the state's leading advocate for high-quality senior living, aging services and care. We are the only statewide association representing the full continuum of care for seniors. The Association provides up-to-date regulatory information, a wide variety of educational opportunities, representation before the Legislature and government agencies, group purchasing services, and opportunities for networking with peers to help member communities best serve the needs of Florida's senior population.