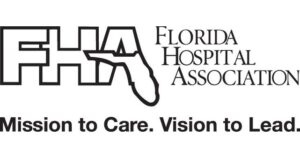 The Florida Hospital Association announced today that Deborah Birx, MD will be the keynote speaker for its 2021 Annual Meeting, October 6-8, at the Ritz-Carlton Orlando Grande Lakes. Dr. Birx is a world-renowned medical expert and leader whose career has focused on clinical and basic immunology, infectious disease, pandemic preparedness, vaccine research and global health. Most recently, Dr. Birx served as the White House Coronavirus Response Coordinator.
"As Florida's communities turn the corner on the COVID-19 pandemic, our hospitals are preparing for what's next by recognizing the critical importance of timely access to care throughout the continuum of health care services," said Mary Mayhew, Florida Hospital Association President and CEO. "Throughout her career, Dr. Birx has worked to combat some of our community's most pressing health issues through her innovative approaches and data-driven decision making. As our hospitals and communities look toward the future, I am thrilled to welcome Dr. Birx as the keynote speaker for the Florida Hospital Association's 2021 Annual Meeting."
Dr. Birx began her career with the Department of Defense in 1985 as a military-trained clinician in immunology, focusing on HIV/AIDS vaccine research. She then served as the Director of the U.S. Military Research Program at the Walter Reed Army Institute of Research where she led one of the most influential vaccine trials in history. During this time, Dr. Birx moved up to the rank of Colonel with the U.S. Army.
From 2005 to 2014, Dr. Birx served as Director of the CDC's Division of Global HIV/AIDS in the CDC Global Health under President George W. Bush and President Barack Obama. In 2014, Dr. Birx was nominated by President Obama to be the Ambasador-At-Large and U.S. Global AIDS Coordinator for the President's Emergency Plan for AIDS Relief. During that same year, Dr. Birx was honored by the CDC for her leadership in advancing the agency's HIV/AIDS response with the highly prestigious William C. Watson, Jr. Medal of Excellence.
In February 2020, Dr. Birx was appointed by Vice President Mike Pence to the position of White House Coronavirus Response Coordinator where she advised state officials and informed the public about the 2019 novel coronavirus.
Dr. Birx has published over 230 manuscripts in peer-reviewed journals, authorized dozens of chapters for scientific publications and has developed and patented vaccines. She received her medical degree from the Hershey School of Medicine at Pennsylvania State University and trained in internal medicine and basic and clinical immunology at the Walter Reed Army Medical Center and National Institutes of Health.
To register for the Florida Hospital Association's 2021 Annual Meeting, please visit www.FHA.org. Information about media credentials for the meeting will be provided at a later date.
About the Florida Hospital Association
Founded in 1927, the Florida Hospital Association is the leading voice for health care in the State of Florida. Through representation and advocacy, education and informational services, the Florida Hospital Association supports the mission of over 200 hospitals and health care systems to provide the highest quality of care to the patients we serve. Led by President and CEO Mary Mayhew, the Florida Hospital Association has offices in Tallahassee and Orlando and is governed by a Board of Trustees and officers elected by the member institutions. For more information, visit www.FHA.org.