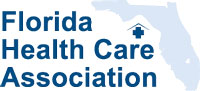 In the face of significant workforce shortages in long term care, the Florida Health Care Association applauds Governor Ron DeSantis for signing legislation that makes the Personal Care Attendant program a permanent part of Florida's long term care workforce solution. The Governor yesterday signed House Bill 485, sponsored by Senator Aaron Bean (R-Jacksonville) and Representative Sam Garrison (R-Orange Park), establishing the Personal Care Attendant program as a career path to becoming a Certified Nursing Assistant in Florida's nursing homes.
"We thank Governor DeSantis for signing this important legislation, which will not only provide more career opportunities for Floridians but also addresses the workforce shortage that our long term care facilities have been dealing with throughout the state," said Emmett Reed, FHCA Chief Executive Officer. "Nursing centers are recruiting caregivers to meet the needs of their residents, and the capability to attract Personal Care Attendants expands the pool of caregivers our seniors rely on and their families trust. As our elderly population increases each day, so too does the need for trained caregivers, and this legislation is a significant step in the right direction."
The PCA Program was initially established in March 2020 as a temporary program under the COVID-19 State of Emergency to help address the staffing challenges brought on by the pandemic. Personal Care Attendants must undergo 16 hours of instructional training and demonstrate competencies, under the supervision of a Registered Nurse, before performing such duties as taking temperatures, delivering water, helping residents get dressed, and providing other areas of support to assist Certified Nursing Assistants (CNA). The PCA program provides up to four months of on-the-job training and prepares these individuals to take the CNA exam so they can transition into more permanent caregiver roles.
A recent survey by the American Health Care Association and National Center for Assisted Living found that 94% of nursing homes across the country, including those in Florida, are facing staffing shortages, with close to 75% saying their overall workforce situation has gotten worse since 2020.
"Creating meaningful jobs for individuals looking to pursue a career in long term care has never been more critical," Reed continued. "As the staffing shortages in our long term care facilities persist, we look forward to working with our state leaders on more solutions to help strengthen our workforce and ensure our residents receive the level of care they need and deserve."
ABOUT THE FLORIDA HEALTH CARE ASSOCIATION
The Florida Health Care Association (FHCA) is a federation that serves nearly 1,000 members and represents more than 500 long-term care facilities that provide skilled nursing, post-acute and subacute care, short-term rehab, assisted living, and other services to the elderly and individuals with disabilities in Florida. The mission of FHCA is to advance the quality of services, image, professional development, and financial stability of its members. As Florida's first and largest advocacy organization for long-term care providers and the elderly they serve, the Association has worked diligently since 1954 to assist its members with continuously improving quality of care and quality of life for the state's growing elder care population. For more information about the Florida Health Care Association, visit http://www.fhca.org.