To help families, students and teachers, State Farm agents across Florida are hosting Back to School Drives and / or making school supply donations to support local schools or organizations in their community.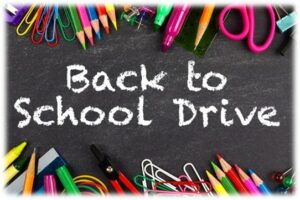 Everyone is invited to assist by dropping off school supplies at participating State Farm agents' offices. The school supplies collected will benefit needy families and teachers in the community.
Before going out shopping, State Farm agents recommend the following back-to-school shopping tips for families to plan smart and cut costs.
Look at what you might already have: You'll be amazed at what you find in the kitchen junk drawer, desks, closets and basements. Also, take a look at the school supplies left over from the previous year because you might be able to reuse some.
Set a budget and stick to it: Determine how much money you can spend, then evaluate needs versus wants. Review supply lists before heading to the store and note what you already have. Include your kids in the process for a valuable lesson about budgeting.
Shop securely: If you're ordering online, make sure to use secure, reliable websites with "https" and a padlock symbol in the address bar. Pay with your credit card instead of debit card.
Shop tax-free: Take advantage of the Florida Back to School Sales Tax Holiday from July 31 to August 9, 2021. https://floridarevenue.com/backtoschool/Pages/default.aspx
Stock up in the off season: Many retailers mark down school supplies weeks after back-to-school shopping peaks.
Make a donation: Back-to-school time is a great time to go through your kids' closets to find clothes they've outgrown; consider donating to a local charity.
State Farm agents hopes that these back to school shopping tips can help families avoid overspending on school supplies, buying duplicate items, and teach kids smart financial strategies.
For additional Back to School tips and list of State Farm agents participating in Back to School drives in your community, email [email protected].