Florida A&M University is urging students, faculty, staff and alumni, employers and other stakeholders to fill out a survey to assist the University as it prepares to update its five-year strategic plan.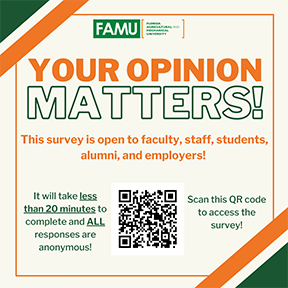 That plan has been credited with improving retention and graduation rates, faculty research, customer service and other key elements at the University. The current Strategic Plan, "FAMU Rising," runs through 2022.
The six strategic priorities are:  Exceptional student experience; Excellent and renowned faculty; High impact research, commercialization, outreach, and extension services; Transformative alumni, community and business engagement; First class business infrastructure; and Outstanding customer experiences.
President Larry Robinson, Ph.D., said the new Strategic Plan will be closely aligned with the Florida Board of Governors' Performance Based Funding (PBF) model metrics; responsive to evolving trends in higher education and the K-12 sector; and keenly attentive to workforce and societal needs and demands.
In 2021, FAMU achieved its highest PBF model score ever, broke annual records in fund raising and research dollars acquired, served several hundred thousand citizens through on-campus COVID-19 testing and vaccination sites, and nearly doubled direct engagement with the private sector.
"This new strategic plan is about mapping the University's path to the continued success of our students, faculty, staff and communities," Robinson said. "The University is on an upward trajectory. With your input the new strategic plan will be stronger and will accelerate our forward momentum of becoming one of the  best 100 public universities in the nation."
Within the survey,  FAMU wants respondents' opinion on where the University is headed, how FAMU can get there, and how the University can better serve its students.
"We're committed to soliciting feedback across diverse constituents within the FAMU community," said Board of Trustee member Kristin Harper, who chairs the Strategic Planning Committee.  "We need everyone engaged in this process so we can understand what we do well; how do we grow; and innovative ideas to move forward while increasing student success." 
To fill out the survey click this link.