The Florida A&M University (FAMU) lineup of  summer commencement ceremony speakers is headlined by civil rights attorney Benjamin Crump and includes alumni Marcelia Freeman and Monica Rainge.
So far, 482 summer 2021 graduates and 1,060  2020 graduates have registered to participate in the ceremonies to be held at the Al Lawson Jr. Gymnasium and Multipurpose Center, 1800 Wahnish Way, July 30 to August 1.
"We are delighted to have such an impressive lineup of speakers for the 2021 Summer Commencement ceremonies. Attorney Ben Crump and alumni Marcelia Freeman and Monica Rainge have set a standard of excellence in their lives and careers. We are certain graduates will be  inspired by their words and their example," President Larry Robinson, Ph.D.
At 6 p.m. Friday, July 30, Rainge, deputy assistant secretary for civil rights at the U.S. Department of Agriculture (USDA) will address all 2021 summer graduates.
Rainge, who is playing a key role in the Biden administration's efforts to assist Black farmers hurt by decades of discriminatory federal farm lending policies, was appointed in February. In her role, Rainge leads the enforcement of federal civil rights laws, regulations, executive orders, and departmental policies that protect the USDA's workforce and customers from discrimination.
The FAMU College of Agriculture & Food Sciences (CAFS) graduate is a globally recognized agricultural lawyer, mediator, and farm advocate. For more than 25 years, her passion has been fighting for justice for underserved and marginalized communities in food, agriculture, land rights and natural resources management.
Prior to her appointment, Rainge served as the director of Land Retention and Advocacy for the Federation of Southern Cooperatives/Land Assistance Fund where she led the development and management of outreach and technical assistance programs that support regional land retention and advocacy initiatives for socially disadvantaged farmers and ranchers.
At 9 a.m. Saturday, July 31, fellow alumna Freeman will seek to inspire 2020 graduates of the School of Business & Industry (SBI), College of Pharmacy & Pharmaceutical Sciences, Institute of Public Health (COPPS,IPH) and School of Environment graduates.
Freeman will also address 2020 College of Social Sciences, Arts and Humanities  graduates at 3 p.m. Saturday.
A veteran financial services executive, Freeman in 2020 joined Clearlake Capital Group, a Santa Monica, California, based private equity firm investing in technology and industrials, in Investor Relations & Product Management. Before that, Freeman was a senior vice president of Capital Development at EIG Global Energy Partners in Washington, D.C., where she was responsible for developing relationships with investors globally and managing products across the platform, including global energy-focused direct lending and structured capital strategies.
Freeman, who serves on the FAMU Foundation board, graduated from FAMU with a five-year Master of Business Administration (MBA) in 2005 and earned an MBA from Harvard Business School in 2010
On Sunday, August 1, Crump will address two ceremonies for 2020 graduates deprived of in-person ceremonies by the COVID-19 pandemic.
At 9 a.m., he will address 2020 graduates from the College of Science and Technology, CAFS, School of Architecture and Electrical Technology, School of Journalism & Graphic Communication, School of Nursing, and the College of Engineering.
In the final ceremony of the summer commencement season, at 3 p.m. Sunday, Crump will address 2020 graduates of the College of Education, College of Law and the School of Allied Health Sciences.
Crump, ex-law partner of former FAMU SGA president Daryl Parks, has established himself as one of the nation's foremost lawyers and advocates for social justice. He has worked on some of the most high-profile cases in the U.S., representing the families of George Floyd, Breonna Taylor, Trayvon Martin, and Michael Brown, as well as the residents of Flint, Michigan, who were affected by the contaminated water from the Flint River.
In 2016, he was designated as an Honorary Fellow by the University of Pennsylvania College of Law. His October 2019 book, Open Season: Legalized Genocide of Colored People, reflects on the landmark cases he has battled, and how discrimination in the courthouse devastates real families and communities. He is the founder and principal owner of Ben Crump Law.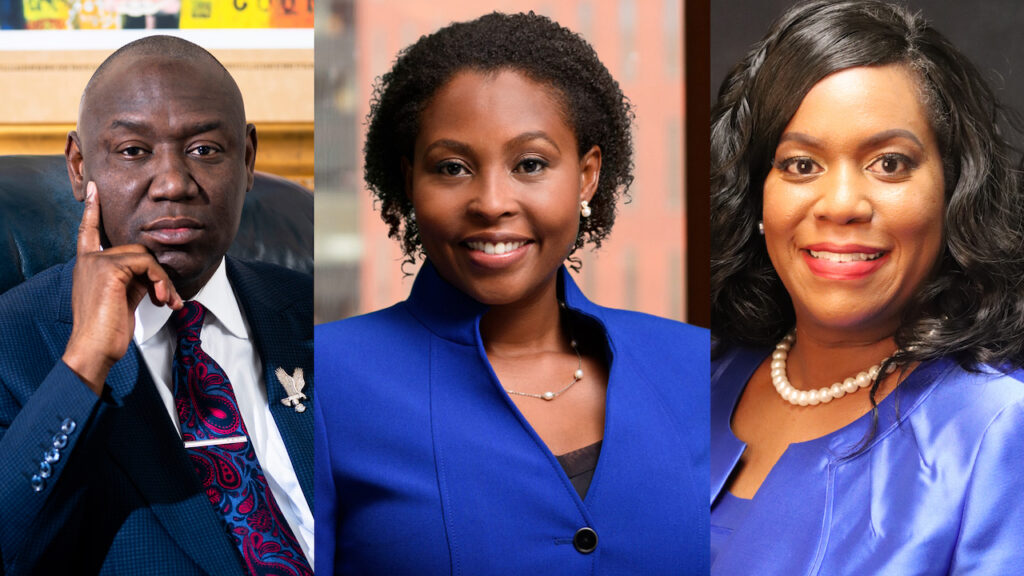 Ben Crump, Marcelia Freeman and Monica Rainge