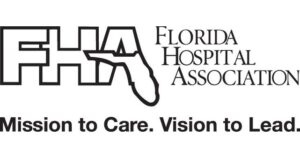 The Florida Hospital Association, the state's leading voice for hospitals and health systems, held a statewide call with its members today to discuss the latest information on COVID-19.
COVID-19 Hospitalization Update (as of Friday, July 17, 2021):
COVID-19 hospitalizations stand at 5,359

Hospitalizations stand roughly half of peak reached in July 2020 (10,179)
Hospitalizations stand roughly 2/3 of peak reached in January 2021 (8,233)

Hospitalizations increased 42% last week from week prior
COVID-19 Vaccination Update (as of Friday, July 17, 2021):
11,851,154 of total population received at least 1 dose (55.2%)
11,395,964 of 18+ population received at least 1 dose (66.1%)
10,167,736 of total population fully vaccinated (47.3%)
9,844,583 of 18+ population fully vaccinated (57.1%)
COVID-19 Hospital Update:
Overwhelming majority of hospitalized COVID-19 patients are unvaccinated
Average age of COVID-19 hospitalizations younger than previous peaks
No hospitals report serious shortages of supplies
Hospitals are closely monitoring staffing levels and express concern about existing workforce availability
Hospitals stand ready to surge COVID capacity and make operational adjustments as local circumstances require
"The message is clear, this virus is now targeting younger people and the unvaccinated," said Mary C. Mayhew, President and CEO, Florida Hospital Association. "The best protection is getting vaccinated. It could be the factor that keeps you from getting the virus. It could lessen your symptoms if you are one of the small number that still contracts the virus. The vaccine will likely keep you away from the hospital and ICU. The vaccine will likely be the thing that saves your life."
The Florida Hospital Association will continue communicating with all Florida hospitals and state officials and provide additional updates as events warrant.
About the Florida Hospital Association
Founded in 1927, the Florida Hospital Association is the leading voice for health care in the State of Florida. Through representation and advocacy, education and informational services, the Florida Hospital Association supports the mission of more than 200 hospitals and health care systems to provide the highest quality of care to the patients we serve. Led by President and CEO Mary Mayhew, the Florida Hospital Association has offices in Tallahassee and Orlando and is governed by a Board of Trustees and officers elected by the member institutions. For more information, visit 
www.fha.org
.