In recognition of his vision, leadership and multi-year support for the 2021 Juvenile Diversion Program Expunction bill (SB 274), The Children's Campaign recently presented a Superhero Protector of Children Award to Florida Senator Keith Perry. The Superhero awards are reserved for people who envision and/or lead transformational change for children.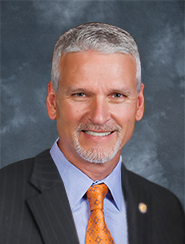 "The common denominator for receiving a Superhero award is the large-scale transformative change that can be achieved," explained Roy Miller, president of The Children's Campaign. "It recognizes system reform that fundamentally changes children's lives for the better."
Florida's Juvenile Diversion Program Expunction bill had the potential to be one of the most important juvenile justice reforms in the last decade. It would have required the Department of Law Enforcement to expunge the nonjudicial arrest record of certain minors who have successfully completed a diversion program for any offense, rather than only a misdemeanor offense. It was vetoed by Governor Ron DeSantis on June 29th.
"I am a firm believer in second chances, particularly for our youth," stated Senator Perry. "Allowing kids who have been arrested for certain felony offenses to expunge their records gives them the opportunity to continue their education, get a job, and join the military. It's the right thing to do and aligned with prior juvenile justice reform of the Florida Legislature over the past decade."
The proposed legislation would have been especially beneficial to Black and Hispanic youth, who are often disproportionately arrested and are less likely to be offered a juvenile diversion program even though they are eligible.
According to data from the Florida Department of Juvenile Justice, over 45,000 youth in Florida were arrested in 2019-20. Over two-thirds (67%) of those arrested involved Black and Hispanic youth. Only 40% of Black youth who were eligible received diversion for 2019-20.
"We fully intend to support this much-needed transformational change for children, which received unanimous bi-partisan support, when the bill is re-introduced next year," stated Miller.
The Superhero Award is not reserved for public officials. Most recipients have been private citizens or advocates who have envisioned innovations such as children's health insurance, civil citations, new strategies to intervene in child trafficking, and more. To date, 13 Superhero awards have been distributed in The Children's Campaign's 29-year history.
About The Children's Campaign
Founded in 1992, The Children's Campaign is a non-partisan, non-profit organization that initiates systemic reform for Florida's children through responsive public education campaigns and responsible public policy. The organization engages diverse citizens, stakeholders and experts in consensus-oriented dialogue, establishes a policy framework with specific recommendations, and then takes action while stressing accountability. More information about The Children's Campaign is available at iamforkids.org.