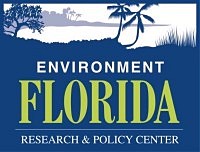 Utilities and special interest groups set up
roadblocks to America's most popular energy option
Special interest groups are working in coordination with local utilities to stall the growth of rooftop solar here in Florida, according to a new report released Thursday by Environment Florida Research & Policy Center. In Florida, investor-owned utilities have targeted policies like net metering, renewable portfolio standards, and power-purchase agreements.
The report, Blocking Rooftop Solar, pulls the curtain back on the playbook promoted by a national network of pro-fossil fuel lobbying groups and adopted by many utilities. These groups are campaigning to stop the growth of rooftop solar in Florida, Ohio, Illinois, California, Kansas, South Carolina, and at the Federal Energy Regulatory Commission (FERC). This years-long, multi-state effort involves coordinating strategies, tactics, and funding for anti-solar campaigns. Specifically, their plan includes:
Restrictions on or the elimination of net metering programs.

New fixed charges on solar power system owners.
To win these changes, special interests create "astroturf" front groups with neutral names like the Consumer Energy Alliance, in an attempt to influence decision-makers to support anti-solar legislation or regulations.
"Rooftop solar is helping to clean up the air in our communities and empowering homeowners and businesses to generate their own electricity," said Ryann Lynn, climate and clean energy advocate with Environment Florida Research & Policy Center. "Utilities and special interests are putting up obstacles to rooftop solar's success, and it's bad for Florida and must be stopped. Utilities are meant to be a public good, but there's nothing good about them undermining solar."
Utility profits come mostly from capital investments in the electric system, like new central power plants or large transmission line projects. Rooftop solar energy challenges traditional utility profit models by putting the generation of power in the hands of consumers, and by reducing the need for large, centralized grid infrastructure and fossil fuel power plants.
The Sunshine State yields great potential for rooftop solar but is falling behind due to policies backed by three investor-owned utilities (IOUs): Florida Power & Light, Duke Energy, and Tampa Electric Company. Major IOUs have wielded their political spending to influence state-level political parties, candidates, committees, and the governor. This influence has helped block a renewable portfolio standard and power purchase agreements and led to policies like expensive insurance requirements for solar homeowners. Utility spending has supported front groups like "Consumers for Smart Solar," which promoted Amendment 1, a failed but deceptive, anti-solar ballot initiative in 2016, and "Energy Fairness," which released a report claiming net metering is unfair to consumers.
"Rooftop solar is key to our clean energy future," said Bronte Payne, Go Solar campaign director with Environment Florida. "We can't let shortsightedness keep us tied to the energy sources of the past. Policymakers need to recognize and resist any attempts to undermine rooftop solar, and put in place strong policies to encourage its growth."
Environment Florida Research & Policy Center is a 501(c)(3) organization dedicated to protecting Florida's air, water, and open spaces. We investigate problems, craft solutions, educate the public and decision-makers, and help people make their voices heard in local, state, and national debates over the quality of our environment and our lives.