Florida A&M University (FAMU) hooded one the largest classes of doctoral graduates in recent years. University officials said 18 graduates were awarded Ph.D.s this summer.
"It shows the perseverance of both graduate faculty and graduate students," said Reginald K. Ellis, Ph.D., interim dean of the School of Graduate Studies and Research. During the last 18 months, FAMU disbursed more than $16 million in federal CARE Act funds to pay off students' outstanding tuition balances and fees. Ellis said the availability of those federal dollars made a significant difference to the doctoral students.
"Those funds went directly to Ph.D. students, so they didn't have to focus on fees, tuition and just finishing that dissertation," Ellis said.
Of the graduates, five received Ph.D.'s from the College of Pharmacy and Pharmaceutical Sciences, Institute of Public Health (COPPS, IPH), four from the FAMU-FSU College of Engineering and two from the College of Science and Technology.
"The College continues to lead academic pharmacy in the education of those who become educators, big PhRMA scientists and postdoctoral fellows. It is our past, our future and a key role for the University," said COPPS, IPH Dean Johnnie Early, Ph.D., who pointed out his College's pioneering role in graduating African Americans.
Four of the graduates earned doctorates from the College of Education, said Dean Allyson Watson, Ph.D.
"As a College of Education, we believe that research and data-driven decision-making is essential to best practices in teaching, learning, and leading," Watson said. "Our doctoral program in educational leadership underscores the deliberate and intentional use of data, research, and measurement to guide leaders."
The recent doctoral graduates and those who have completed degrees from the FAMU Educational Leadership and Counseling graduate programs will continue to be change agents and leaders within their careers, she said.
"They have the professional and educational tools to not only succeed but to lead with authority based on what they have studied," Watson added. "We are proud to add to the overall number of successful graduates as a college and know that we will continue to align with the FAMU strategic plan to graduate quality candidates and add value to the institution, regionally, nationally, and globally."
Dora Olimpia Tilles, Ph.D., was one of the graduates from the College of Education's Department of Education Leadership & Counselling. For Tilles, getting to Saturday, July 30 was a seven-year journey. She began her dissertation in 2014 and life intervened – divorce, relocation, health issues, job changes and the coronavirus pandemic. Last month, Tilles got married, graduated, and landed a new job. But she wasn't going to miss her hooding ceremony.
"The emotions can't even be described," said Tilles, who moved from Florida to South Dakota and Washington before moving back to South Dakota. "One of my class cohort, we graduated together. It was a very special cohort. We started off with 15 of us. We became this beautiful family. We decided we would all graduate. At this point, 10 out of 15 of us have graduated. We're still rooting for the five left."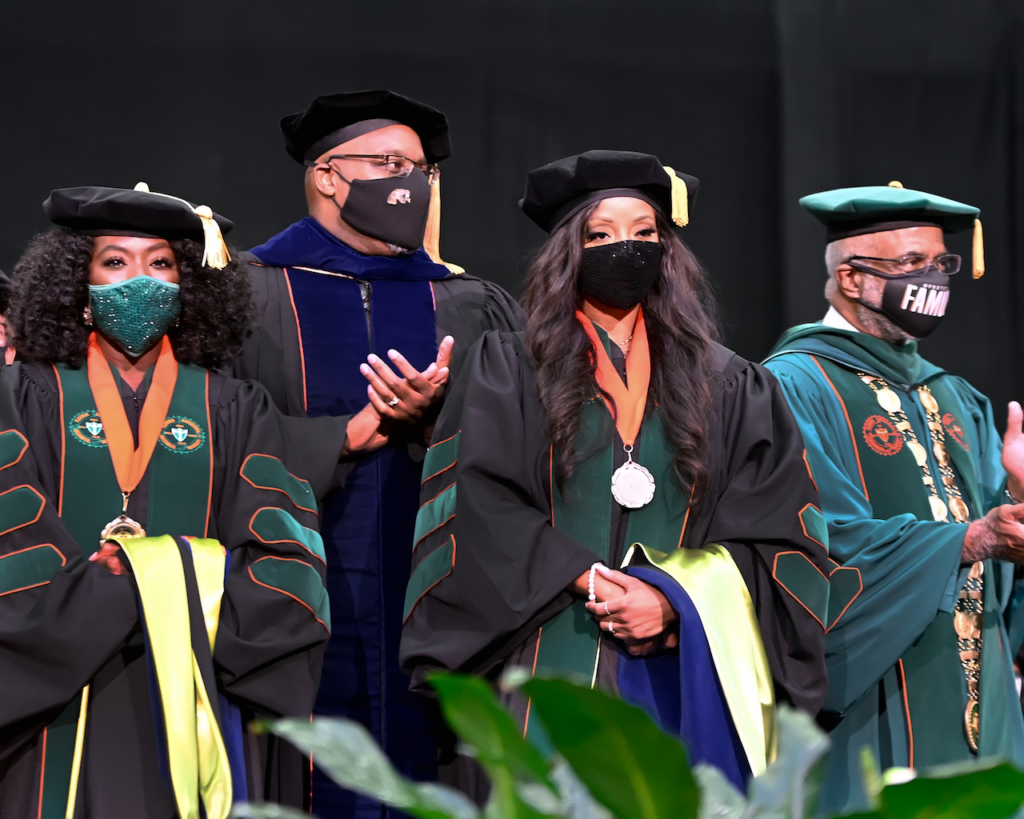 FAMU summer 2021 Ph.D. graduates on stage wait to get hooded by their faculty
adviser as President Larry Robinson applauds on Friday, July 30, 2021.