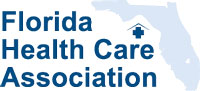 The Florida Health Care Association has been awarded a $1.8 million grant from the federal Centers for Medicare and Medicaid Services to strengthen Florida's long term care workforce and attract more Certified Nursing Assistants (CNAs) into the profession. The CaregiversFL Career Program is two-year project that will focus on raising awareness about long term care as an opportunity for career growth, enhancing the recruitment and retention efforts of Florida's nursing centers and building partnerships with statewide educational, workforce and veterans' organizations to encourage individuals to make long term care their chosen career path.
The CaregiversFL Career Program will be implemented in partnership with the Florida Agency for Health Care Administration (AHCA) and will use funds from the Quality of Long-Term Care Facility Improvement Trust Fund, which was created within AHCA to support activities and programs directly related to improving the quality of care for nursing home residents.
"As our elderly population increases each day, so too does the need for trained caregivers," said FHCA Chief Executive Officer Emmett Reed. "We want to thank our state and federal partners for recognizing the workforce challenges that are occurring in our long term care centers across Florida. With this grant, our goal is to educate the public about the employment opportunities available in our long term care facilities and, in turn, support providers in their efforts to attract more frontline heroes to meet the needs of the residents entrusted to their care."
"Florida is home to one of the largest elderly populations in the country. Ensuring our seniors are well cared for has been and will continue to be a priority for the Agency," said Simone Marstiller, Secretary for the Florida Agency for Health Care Administration. "We are proud to partner with the Florida Health Care Association to implement the CaregiversFL Career Program to recruit, train and retain qualified staff to be the next generation of health care heroes to protect our most vulnerable citizens in Florida."
The CaregiversFL Career Program will launch in October and includes an interactive website that will help job seekers access career opportunities in Florida's long term and post-acute care profession. Florida.carefortheaging.org features a wealth of resources, including state-specific education requirements, salaries and career-focused testimonial videos from caregivers, developed to inspire high-school students, early career professionals and job seekers looking for new opportunities to pursue a career in the rewarding field of long term care. The site also includes a link to open positions in skilled nursing and assisted living facilities across Florida, along with a built-in interest form to capture information from site visitors, especially those seeking a new career opportunity.
ABOUT THE FLORIDA HEALTH CARE ASSOCIATION
The Florida Health Care Association (FHCA) is a federation that serves nearly 1,000 members and represents more than 500 long-term care facilities that provide skilled nursing, post-acute and subacute care, short-term rehab, assisted living, and other services to the elderly and individuals with disabilities in Florida. The mission of FHCA is to advance the quality of services, image, professional development, and financial stability of its members. As Florida's first and largest advocacy organization for long-term care providers and the elderly they serve, the Association has worked diligently since 1954 to assist its members with continuously improving quality of care and quality of life for the state's growing elder care population. For more information about the Florida Health Care Association, visit http://www.fhca.org.