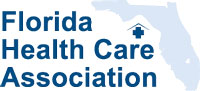 The vast majority of Florida nursing centers are facing significant staffing challenges that present an urgent need for investment in the long term care workforce, according to the findings of a recent survey by the Florida Health Care Association (FHCA). The survey of the organization's nursing home and assisted living members makes clear the centers need resources to recruit and retain staff to keep up with the demands of Florida's growing aging population.
The July survey of 310 nursing homes and 23 assisted living facilities revealed that almost 9 in 10 FHCA member facilities said their overall workforce situation has gotten worse since 2020, and 92% are facing staffing challenges as the state contends with another surge in COVID-19 cases.
"These survey results make it clear that Florida's long term care workforce is facing serious challenges," said FHCA Chief Executive Officer Emmett Reed. "Our state must make significant investments in our long term care facilities so they have the resources necessary to recruit and retain the best caregivers to join the front lines. This includes making sure our facilities are properly funded so providers can offer meaningful jobs with competitive wages, and in turn enhance the overall quality of care for their residents."
Among the survey's other key findings:
88% of nursing centers said they have experienced a shortage of staff members in the last month.
52% are having to reduce admissions as a result of staffing challenges.
92% of nursing home members have had to use the services of temporary staffing and other approaches to meet staffing needs.
63% of FHCA members indicated that their budget cannot sustain current efforts to meet staffing needs for more than six months.
80% of member facilities said higher reimbursement that enables them to offer better staff pay and benefits would help improve their ability to recruit and retain staff.
Florida's long term care professionals have dealt with the worst of COVID-19 longer than others, as the elderly were the most vulnerable population in the early days of the pandemic. Reed said the survey shows how vulnerable the centers remain due to the pandemic, especially without adequate staffing.
A one-page executive summary of the results can be found here.