During her summer 2021 commencement address, Florida A&M University (FAMU) alumna Marcelia Freeman challenged new graduates and their relatives to donate to the University and pledged to match donations up to $100,000.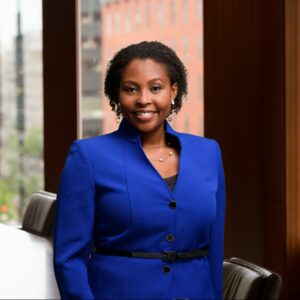 In honor of Black Philanthropy Month, Freeman, vice chair of the FAMU Foundation Board of Directors Investment Committee, is expanding her challenge. She will match contributions from all new donors to the FAMU Foundation up to $100,000 through the end of the current fiscal year that ends June 30, 2022. To donate, visit //my.famu.edu/give or text FAMURISING at 41444.
Freeman spoke to 2020 School of Business & Industry (SBI), College of Pharmacy and Pharmaceutical Sciences, Institute of Public Health, and School of Environment and College of Arts, Humanities and Social Sciences graduates in two ceremonies on Saturday, July 31.
The 2005 graduate urged her 2020 counterparts to consider supporting the endowment with a small gift before they left campus.
 "I don't care that you had to wait in line for financial aid. It's not about that. It's about those who come after you and creating a clearer path for them," said Freeman, who has worked in investor relations and product management for Clearlake Capital Group, a Santa Monica, California, based private equity firm, since 2020. "I'll even match you dollar-for-dollar up to $100,000. Let's see what you've got. You can't break me. Help us secure the bag and the future of FAMU."
Freeman's challenge dovetails with the University's drive to encourage more alumni to donate to FAMU for scholarships, athletics, and other areas. In 2020-2021, the Office of University Advancement, the fundraising arm, saw a record $13.6 million in donations. However, the number of individual donors declined.
The push for first-time donor support is also part of the University's "March to 100" campaign as it tries to be counted among one of the top 100 public institutions in America. FAMU was ranked 117, up from 123, in the 2021 U.S. News & World Report Ranking of National Public Universities.
Shawnta Friday-Stroud, Ph.D., vice president for University Advancement and executive director of the FAMU Foundation, lauded Freeman's philanthropy.
"We commend her for her generosity to the University and her commitment to future generations of students. This challenge is a clarion call to those who have never given back to FAMU," Friday-Stroud said. "Their first-time donation will be matched. She has raised the bar when it comes to making a difference."