LAKELAND, Fla. – The fall 2021 class of incoming students is the largest in Florida Polytechnic University's history with more than 625 new students joining the University from an applicant pool of almost 2,000.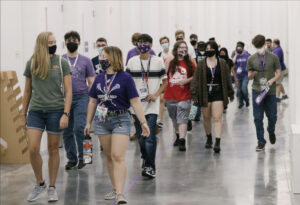 Dr. Ben Matthew Corpus, vice provost for enrollment at the University, said the robust student enrollment was the result of Florida Poly's growing reputation in higher education as well as the hard work of the University's enrollment team. Classes began Aug. 24 with an overall University enrollment projected at about 1,550 students.
The rise in new students is the latest in a pattern of continued growth at the University. The 625 new students this fall is a 25% increase from the 500 who joined Florida Poly in fall 2020 and a 50% jump from the 415 new students enrolled in fall 2019.
"While the COVID-19 pandemic presented many challenges to student recruitment, it also was the catalyst for us to create several new pathways to connect with academically talented students and highlight the value of a Florida Poly STEM education," Corpus said.
Traditional means of connection like in-person high school presentations and college fairs were canceled due to pandemic restrictions and many high school students struggled with canceled standardized tests and changes to the AP exam format. Corpus said Florida Poly charged forward on new efforts such as an innovative peer tutoring program that allowed top University students to connect virtually with students at 11 high school AP calculus classes to serve as learning assistants and help students on demand.
As part of other recruitment efforts, the University strategically highlighted its growing extracurricular activities, attracting over 200 incoming students interested in joining teams such as archery, women's soccer, robotics, scatter band, and lacrosse.
"Our new students have expressed how excited they are to be joining a campus that will not only provide them with the academic rigor needed for high-wage, high-demand jobs after graduation, but also allow a campus that has activities they're passionate about," Corpus said.
In addition to the growth in size seen in the incoming class, Corpus highlighted the class' academic strength. The average GPA for incoming students is 4.5, up from 4.4 last year. Additionally, admitted students had an average SAT score of 1321 and ACT score of 29.4.
Diversity among incoming students also is strengthening with overall increases in female and Black/African American students. Hispanic/Latinx student enrollment remained steady from last year.
Other highlights from Florida Poly's fall 2021 enrollment data include:
38% of first-time-in-college students ranked in the top 10% of their high school graduating class, up from 32% last year.
The University's most popular majors are computer science, mechanical engineering, and computer engineering.
The most popular academic concentrations are game development and simulation, software engineering, aerospace, and cybersecurity.
The number of transfer students held steady from fall of 2020, which was a 26% increase over the year prior.
For the most recent University news, visit Florida Poly News.
About Florida Polytechnic University: Florida Polytechnic University is a nationally ranked Top 100 engineering college, accredited by the Southern Association of Colleges and Schools Commission on Colleges, and a member of the State University System of Florida. It is the only state university dedicated exclusively to STEM and offers ABET-accredited degrees. Florida Poly is a powerful economic engine within the state of Florida, blending applied research with industry partnerships to give students an academically rigorous education with real-world relevance. Florida Poly's iconic Innovation, Science, and Technology Building, designed by world-renowned architect Dr. Santiago Calatrava, has won more than 20 global awards and was named one of the 16 most breathtaking buildings in the world. Connect with Florida Poly.