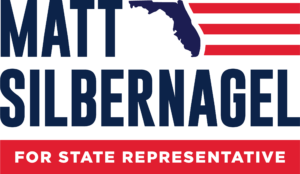 Blake says that Silbernagel is the real conservative in the race.
Legislative candidate Matt Silbernagel today announced that Lake County Commissioner Josh Blake has endorsed his campaign for State Representative.
"We need a conservative in the Florida House that will represent the values of Lake County, and that person is Matt Silbernagel," said Commissioner Josh Blake. "I endorse Matt because he is a family man, anti-tax, pro-gun, and a strong advocate for religious liberty."
Josh Blake is one of the true conservative voices of Lake County.  He was elected to the Lake County Commission in 2016 and subsequently in 2020.  Blake previously served as the Legislative Aide for Florida House District 33.
"I appreciate the endorsement of Commissioner Blake," said candidate Matt Silbernagel. "His commitment to lower taxes, less regulation, and our second amendment rights has been a breath of fresh air on the County Commission, and I look forward to working with him when I am elected to the Florida House."
Matt Silbernagel is running for Florida House District 32.  Incumbent Representative Anthony Sabatini is not running for re-election and is instead running for Congress.
To learn more please visit www.mattsilbernagel.com.
Paid by Matthew Silbernagel, Republican, for State Representative