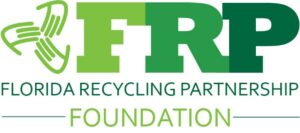 The Florida Recycling Partnership Foundation is seeking nominations for its 2021 Recycling Champions Awards that will recognize companies, organizations, governmental entities or individuals that have made a significant impact in recycling. The group is also looking to recognize and celebrate new innovative programs in water reuse and recycling, energy efficiency, sustainability and environmental stewardship.
Nominations are now open and self-nominations are welcomed.
Suggested Award Categories include:
• Communication and Education
• Waste Reduction, Reuse and Recycling
• Water Reuse and/or Recycling
• Energy Efficiency
• Environmental Stewardship
• Innovation and other
• Recycle Market Development
Applicants can be a non-profit; large business (over 100 employees); small business; governmental entity; or educational organization.
Applications can be found on the Florida Recycling Partnership website – www.flrecycling.org and the deadline to submit is October 1, 2021.
Notification of award decisions will be made in November, with the awards presented during Florida Recycles Week scheduled for November 15 – 19, 2021.
Last year five awards were presented, and the winners included Anheuser-Busch, DAR PRO Solutions, Florida State University, Keep Tampa Bay Beautiful and Sarasota County Solid Waste.
This year's judges will a combination of Deans and students from the Jim Moran College of Entrepreneurship – Master of Science in Entrepreneurship, Social and Sustainable Enterprises Program.
The Florida Recycling Partnership Foundation is a coalition of leading Florida companies and associations with the mission to educate policy makers, business leaders and the public about the importance of recycling.
Questions? Contact Keyna Cory at [email protected] or 850.728.1054