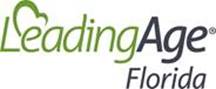 The American Society of Association Executives (ASAE) has recognized LeadingAge Florida for its COVID-19 response in support of senior living providers. LeadingAge Florida received the Silver Power of (A)* Award for its project "Protecting the Frail: Leading Through a Pandemic."
ASAE's Power of (A)* (Association) Awards—the organization's highest honor—recognized the association for going above and beyond to assist senior living providers during the pandemic. Supported by these efforts, data shows that LeadingAge Florida members had fewer average COVID-19 infections per facility compared to the rest of Florida.
"We have been privileged to support and serve Florida's highest quality senior living providers for more than 18 months," said Steve Bahmer, President and CEO of LeadingAge Florida. "From more than 250 live and recorded coronavirus update calls, to reopen guidelines, communications plans and so much more — this truly was, and continues to be, a multi-faceted, all-hands-on-deck, round-the-clock support operation for members by the entire LeadingAge Florida team."
"We are honored to be among this year's winners of the 2021 ASAE Power of A Awards, the highest industry honors for associations."
With this award LeadingAge Florida is now a two-time winner, having also won the award in 2018 for coordinating relief efforts among its members in the aftermath of Hurricane Irma.
"Congratulations for exemplifying the impact associations have on the industries and professions they represent, and on society at-large," said ASAE President & CEO Susan Robertson, CAE. "It's always so incredibly satisfying to see associations going above and beyond their everyday mission to change the world. We're very proud to spotlight this award-winning initiative."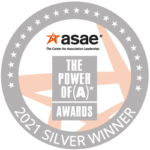 For more than 58 years, LeadingAge Florida has been the state's leading advocate for high-quality senior living, aging services and care. We are the only statewide association representing the full continuum of care for seniors. The Association provides up-to-date regulatory information, a wide variety of educational opportunities, representation before the Legislature and government agencies, group purchasing services, and opportunities for networking with peers to help member communities best serve the needs of Florida's senior population.