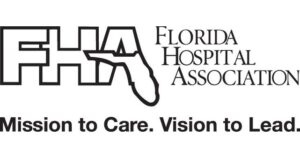 The Florida Hospital Association, the state's leading voice for hospitals and health systems, provided the following update today on COVID-19 in the state. Statewide data is derived from the federal Department of Health and Human Services (HHS).
HHS Statewide COVID-19 Update:
Current Confirmed COVID-19 Hospitalizations: 9,917
7-Day Change in COVID-19 Hospitalizations: -19.0%
14-Day Change in COVID-19 Hospitalizations: -31.5%
Total New COVID-19 Cases: 9,313
Inpatient Bed Availability (all patients): 17.7%
Inpatient ICU Bed Availability (adults): 10.7%
Percent of Inpatients with Confirmed COVID-19 (all patients): 21.2%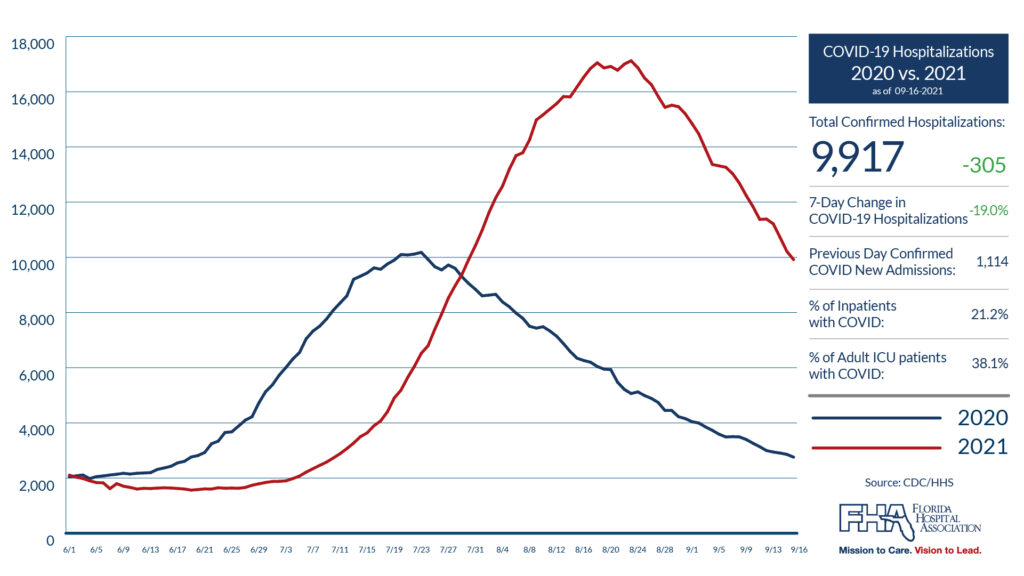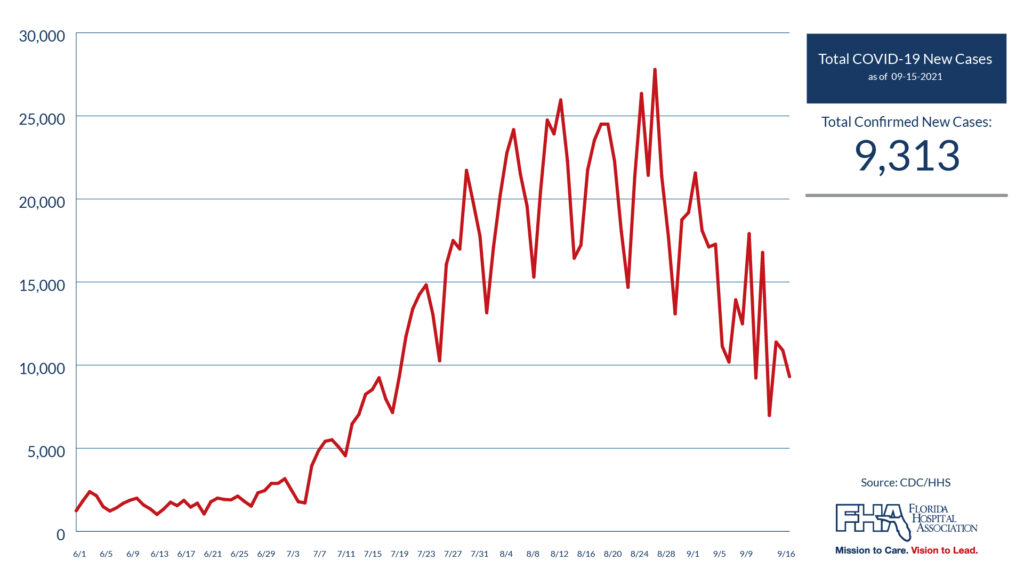 Source: COVID-19 Reported Patient Impact and Hospital Capacity by State
FHA Hospital Update:
The following information is being released by the Florida Hospital Association from a survey of hospitals completed Wednesday, September 15, 2021. This survey reflects responses from hospitals operating 78% of Florida's acute care hospital beds.
COVID-19 patients in ICU: 25.0% (steady from 9/7)
COVID-19 patients on ventilator: 20.3% (2.4% increase from 9/7)
COVID-19 patients transferred from Nursing Homes/Long-term care: 3.3% (steady from 9/7)???????
Hospitals expecting critical staffing shortage in next 7 days: 72.8% (1.9% decrease from 9/7)
Hospitals expanding into non-care areas in next 7 days: 18.0% (6.4% decrease from 9/7)
"Our state has seen a nearly one-third reduction in COVID-19 hospitalizations in the last two weeks with today marking the first time since July 30 that COVID-19 hospitalizations in Florida have stood below 10,000," said Mary C. Mayhew, President and CEO, Florida Hospital Association. "While the state is clearly on the right track, it should be noted that we still have roughly the same number of people hospitalized today as we did at the height of the surge last year. Getting vaccinated and receiving monoclonal antibody treatments for those who test positive remain the best protection against serious illness and possible hospitalization."
About the Florida Hospital Association
Founded in 1927, the Florida Hospital Association is the leading voice for health care in the State of Florida. Through representation and advocacy, education and informational services, the Florida Hospital Association supports the mission of more than 200 hospitals and health care systems to provide the highest quality of care to the patients we serve. Led by President and CEO Mary Mayhew, the Florida Hospital Association has offices in Tallahassee and Orlando and is governed by a Board of Trustees and officers elected by the member institutions. For more information, visit www.fha.org.