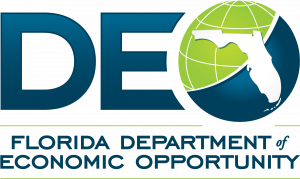 Florida's unemployment rate declined to 5.0%
The Florida Department of Economic Opportunity today announced Florida has experienced 16 consecutive months of job growth, gaining 19,400 private sector jobs over the month. In total, Florida has gained 990,400 jobs since April 2020. Florida's unemployment rate of 5.0% for August 2021 dropped 0.1 percentage point from July 2021. For 13 consecutive months, the state of Florida's unemployment rate has remained below the national rate, which is currently at 5.2%. Florida's labor force also continues to substantially grow, increasing by 65,000 over the month. Over the last 5 months, Florida's labor force has grown by 373,000, showing the success of the state's 'Return to Work' initiative as more Floridians are returning to work
Florida's unemployment rate has lowered over the year, decreasing by 2.9 percentage points. Data in the month of August indicates that there continues to be many job opportunities available for Floridians throughout the state, with more than 520,000 jobs posted online.
"Under the leadership of Governor DeSantis, Florida's unemployment rate is decreasing," said Secretary Dane Eagle of the Florida Department of Economic Opportunity. "This positive sign shows that Floridians are returning to work and Florida's economy continues to provide opportunities for meaningful employment. I look forward to working with Floridians to continue these economic successes."
Florida Economic Indicators for August 2021 include:
Unemployment rate is 5.0 percent.
Florida businesses gained 19,400 private sector jobs over the month.
Labor force was up 65,000 over the month, bringing the August 2021 total up to 10,543,000.
Florida's private sector employment increased by 380,300, or 5.2%, over the year.
Private sector industries gaining the most jobs over-the-month were:
Financial Activities with 8,900 new jobs
Professional and Business Services with 7,900 new jobs
Education and Health Services with 6,100 new jobs
Other Services with 5,400 new jobs
Information with 2,600 new jobs
To view the August 2021 jobs reports by region, please see below:
Tampa
Orlando
Miami
Jacksonville
Fort Lauderdale
Pensacola
West Palm Beach
Southwest
To view the August 2021 employment data visit: www.floridajobs.org/labor-market-information/labor-market-information-press-releases/monthly-press-releases.
Visit Florida Insight, for more information on labor market and economic data. Additionally, the Department has provided a video to assist users in explaining the data provided through Florida Insight and the new platform.
Floridians in search of work and new job opportunities are encouraged to turn to the CareerSource Florida network for help. Floridians can find guidance to register with Employ Florida and search listings of available local job openings. Career seekers also can improve employability assistance, perfecting resume writing, interviewing skills, establishing career goals, and pursuing customized career training. These services are provided at no cost to job seekers.
To view today's presentation, please click here.
About DEO
The Florida Department of Economic Opportunity combines the state's economic, workforce and community development efforts, expediting economic development projects to fuel job creation in competitive communities and promote economic resiliency. For more information, including valuable resources for employers and job seekers, please visit www.FloridaJobs.org.