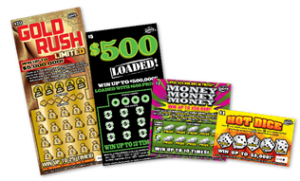 Including the Newest $20 Game, GOLD RUSH LIMITED!
The Florida Lottery (Lottery) today introduces its newest $20 Scratch-Off game, GOLD RUSH LIMITED, offering more than $1 billion in cash prizes! This new game features 32 top prizes of $5 million and 100 prizes of $1 million. Additionally, this ticket is filled with over 33,000 prizes of $1,000 to $100,000! The game's overall odds of winning are one-in-2.65.
The Lottery is also excited to launch three additional Scratch-Off games today that offer more than $100 million in total cash prizes. HOT DICE, MONEY MONEY MONEY, and $500 LOADED range in price from $1 to $5 and feature something for every level Lottery player to enjoy! All Lottery retailers are expected to have these new tickets in stock and available for purchase within 48 hours.
For $5, players can win up to $500,000 instantly with the new $500 LOADED Scratch-Off game. That's not all—as its name suggests, this ticket is also loaded with over 26,000 prizes of $500! This game's overall odds of winning are one-in-4.06.
The $2 game, MONEY MONEY MONEY, allows players to win up to 10 times on a single ticket. This new Scratch-Off features a whopping top prize of $50,000 and is packed with more than $24 million in prizes! The game's overall odds of winning are one-in-4.37.
For $1, players can win up to $5,000 with the new HOT DICE Scratch-Off! This game gives players the chance to win instantly by revealing a "7" symbol, double their prize by revealing an "11" symbol, or win all five prizes by revealing a "HOT" symbol. The game's overall odds of winning are one-in-4.89.
Scratch-Off games are an important part of the Lottery's portfolio of games, comprising approximately 75 percent of ticket sales and generating more than $1.3 billion for the Educational Enhancement Trust Fund (EETF) in fiscal year 2020-21.
ABOUT THE FLORIDA LOTTERY 
The Florida Lottery is responsible for contributing more than $40 billion to education and sending more than 880,000 students to college through the Bright Futures Scholarship Program. The Florida Lottery reinvests 99 percent of its revenue back into Florida's economy through prize payouts, commissions to more than 13,000 Florida retailers, and transfers to education. Since 1988, Florida Lottery games have paid more than $77.6 billion in prizes and made more than 3,000 people millionaires. For more information, please visit www.flalottery.com.