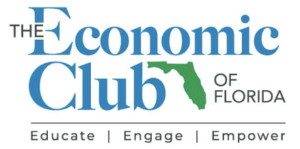 Will Florida Remain the Space Capital of America?
National Aeronautics and Space Administration (NASA) Administrator Bill Nelson will appear in-person to address Florida and the Future of Space in a luncheon speech before The Economic Club of Florida this Friday, October 1, from noon to 1pm at the Florida State University Alumni Center in Tallahassee. The Miami and Melbourne native, who flew in space as a Congressman, will share the latest on America's planned return to the moon, a manned spaceflight to Mars, and his other goals for the space agency. He has a storied career of public service to Florida, serving as a state representative, a U.S. representative, state insurance commissioner and treasurer, and most recently U.S. Senator.
Administrator Nelson will also discuss the growing privatization of commercial spaceflight and its impact on Florida. Florida's Cape Canaveral was the birthplace of U.S. spaceflight in 1958 with Project Mercury. Today, the space industry in Florida comprises 17,144 aerospace-related companies employing more than 130,000 employees, according to Space Florida.
"We look forward to Administrator Nelson's return to The Economic Club of Florida to share how he can help make sure that Florida remains the manned-spaceflight capital of America," said Club President Barney Bishop III.
"The space program is a historical and critical part of Florida's booming economy, especially as the boundaries of space expand by the growing number of private firms engaged in space launches and spaceflight," said Bill Moor, Club Chairman and President of Capital City Investments and Capital City Trust Company, which is sponsoring the luncheon address. "We're honored that Administrator Nelson can join us to share his vision of this critical new frontier and economic driver."
Non-member guests are welcome to attend the livestreamed virtual version of this address by registering here.
MEDIA NOTE: There will be a riser and audio mult-box available for credentialed journalists attending in-person. Administrator Nelson is expected to make himself available to media for questions either before or after his formal address, with his press office so coordinating. To attend the livestreamed virtual version of the address, please register here.
The Economic Club of Florida is the South's leading forum for speakers of regional and national distinction to discuss the major issues of the day. On the web at www.economic-club.com | @EconClubFL | Facebook along with podcasts and summaries of past addresses.