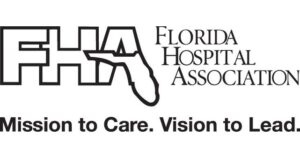 Florida faces a nursing crisis! There are not enough nurses now and that trend will continue into the next decade! That is the major finding of a new report released today commissioned by the Florida Hospital Association and the Safety Net Hospital Alliance of Florida from IHS Markit (NYSE: INFO), a world leader in next-generation information and analytics that works with 50,000 business and government customers, including 80 percent of the Fortune Global 500.
The report's projections show Florida will face a shortfall of 59,100 nurses by 2035. This includes a 12 percent shortfall, -37,400, in Registered Nurses (RN) and a 30 percent shortfall, -21,700, in Licensed Practical Nurses (LPN).
"Florida needs nurses now and well into the future. A recent FHA study, prior to the current spike in COVID-19, showed an 11 percent vacancy rate for nurses this spring and that one in four nurses left their positions last year," said Mary C. Mayhew, President and CEO of the Florida Hospital Association. "As Florida's population continues to grow, our healthcare system must be ready to meet the ever-increasing demand for services. A strong healthcare workforce and capacity in the education system to graduate needed nurses over the coming years are critical."
Justin Senior, CEO of the Safety Net Hospital Alliance of Florida added, "As we have seen throughout this pandemic, there is no substitute for the care of an excellent nurse. Our state's rapid, accelerating growth is a testament to the state's strong pandemic response and to the state's leadership during this crisis. This growth does put a strain on existing infrastructure – including health care generally and nurses specifically.  It is our hope that this study will provide valuable information to all of those in leadership positions about the state's near-future nursing needs.  These needs require a thoughtful, all-encompassing approach to educating, training, recruiting, and retaining Florida's present and future nurses.  We are confident that by addressing the nursing pipeline through investments in nursing educational and training programs and in nursing schools that we can avoid nurse shortages and strengthen the state's healthcare delivery system."
The Nurse Workforce Projection Report found the need for nurses is not evenly distributed across the state. Florida's major metropolitan areas are projected to largely have an adequate supply of RNs, but a shortfall of LPNs. Florida's rural areas and panhandle will face a shortage of RNs but have a largely adequate supply of LPNs. The Villages is projected to have the largest shortage of both RNs and LPNs. Gainesville is projected to have a significant excess of both RNs and LPNs.
In the report, the Florida Hospital Association and Safety Net Hospital Alliance of Florida suggest addressing the nurse shortage in the coming years by expanding nursing schools and clinical training capacity, increase the number of nurse faculty opportunities, improving pass rates of the nurse licensing exams which the state ranks towards the bottom in nationally, and taking advantage of an influx of people moving to Florida by increasing funding for recruitment of nurses from outside the state.
The Florida Hospital Association and Safety Net Hospital Alliance of Florida also commissioned IHS Markit to conduct a similar projection for physicians. That report will be released later this fall.
A quick guide to Florida Nurse Workforce Projections Report can be found here.
The complete Florida Nurse Workforce Projections Report can be found here.
Quotes from organizations focused on nursing and nurse training can be found here.
About the Florida Hospital Association
Founded in 1927, the Florida Hospital Association is the leading voice for health care in the State of Florida. Through representation and advocacy, education and informational services, the Florida Hospital Association supports the mission of more than 200 hospitals and health care systems to provide the highest quality of care to the patients we serve. Led by President and CEO Mary Mayhew, the Florida Hospital Association has offices in Tallahassee and Orlando and is governed by a Board of Trustees and officers elected by the member institutions. For more information, visit www.fha.org.
About the Safety Net Hospital Alliance of Florida
The Safety Net Hospital Alliance of Florida is a 14-member coalition of teaching, public, children's and regional perinatal intensive care hospitals that together make up only 10 percent of the state's hospitals, yet provide the majority of the state's highly specialized medical care, train tomorrow's doctors, and provide almost half of the Medicaid and charity care.