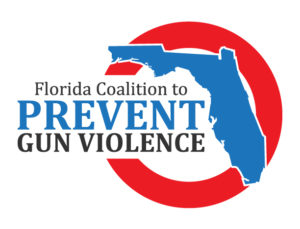 The Florida Coalition to Prevent Gun Violence today announced reorganization as a separate 501(c)4 to ramp up support for common-sense reforms to reduce gun violence in the Sunshine State.
Created just days after the June 12, 2016 shooting at Orlando's Pulse Nightclub that claimed 49 lives, the Coalition was co-founded by Patricia Brigham with the support of the League of Women Voters of Florida and Andy Pelosi, Executive Director of The Campaign the Keep Guns Off Campus. Brigham, who will now serve as president of Prevent Gun Violence Florida, said the restructuring of the coalition comes at just the right time.
"As our state legislature and cabinet are dominated by one party, this change will allow us to participate more directly in the electoral process," Brigham explained. "The best place to hold those lawmakers who value easy access to firearms over the lives of Floridians accountable is at the ballot box."
Pelosi will also continue in a leadership role as a member of the Prevent Gun Violence FL Board of Directors. "We are looking forward to building upon the work we have done over the last five years in support of safe communities in Florida," Pelosi said.
The mission of the organization remains the same:
Ban semi-automatic assault weapons and high-capacity magazines
Expand background checks on all gun sales
Defeat legislation that would place guns in civilian hands on college and university campuses
Defeat legislation to allow gun owners to openly carry
Expand protections for victims of domestic gun violence
"Every legislative session Floridians are fed a pack of lies regarding guns and safety by legislative leadership in Tallahassee," said Gail Schwartz, a board member who lost her nephew in the 2018 mass shooting at Marjory Stoneman Douglas High School. "They have consistently pushed dangerous and reckless bills allowing unfettered access and proliferation of deadly weapons that make Floridians less safe – as evidenced by the continuing surge of gun deaths that leave behind thousands of grieving and traumatized Floridians."
Other coalition leaders serving as board members for the new organization include Angela Gallo, former Coalition Co-chair and member of the Orange County School Board District 1 and Carrie Boyd, Policy Director for the Southern Poverty Law Center.