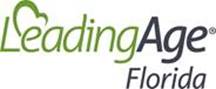 LeadingAge Florida, Florida's only association representing the entire continuum of care for older adults, announced its 2022 legislative priorities for senior living and long-term care today. Top priorities include Medicaid funding for nursing homes and home and community based services, addressing the long-term care workforce crisis, retention of reasonable COVID-19 liability protections, and standardized dementia-related staff training.
Because of the lasting impacts of the COVID-19 pandemic, nursing homes have seen a decrease in occupancy, as well as pandemic-related increased costs and a workforce crisis, none of which are accounted for in the current Medicaid reimbursement system that was underfunded in relation to costs prior to the pandemic. Uniform increased reimbursement is essential for the continued viability of nursing homes in Florida.
Similar to nursing homes, the Medicaid reimbursement rates for home and community based services are inadequate. LeadingAge Florida supports increased funding that would allow for greater access to services by the Medicaid population and enable the delivery of care in the most appropriate, cost-effective setting.
Adequate funding is also tied to the most significant challenge facing providers—workforce. LeadingAge Florida will identify and support legislation that addresses the long-term care workforce crisis with solutions that help recruit, train and retain senior living professionals.
"The workforce shortage in senior living has long been documented, but has been exacerbated by the COVID-19 pandemic," said LeadingAge Florida President & CEO Steve Bahmer. "This is a complex, multifaceted crisis that is going to require an equally complex set of solutions. Florida has the best there is to offer in senior living services, but without decisive action the instability in the long-term care workforce will have negative impacts on access to care, quality of care and quality of life for our state's most vulnerable population."
On March 29 of this year, Governor DeSantis signed SB 72 into law, providing important COVID-19-related liability protections for long-term care providers. The pressures and challenges presented by the COVID-19 pandemic for providers still exist. Because of the challenges that the pandemic has, and continues to present to long-term care providers, LeadingAge Florida supports retaining COVID liability protections until the threat of COVID-19 has truly subsided.
LeadingAge Florida also supports standardized dementia-specific training for staff. LeadingAge Florida is working with a coalition of associations representing senior care providers, including long-term care providers, and hospice and home health providers, on legislation which ensures the continued delivery of high-quality care.
For more than 58 years, LeadingAge Florida has been the state's leading advocate for high-quality senior living, aging services and care. We are the only statewide association representing the full continuum of care for seniors. The Association provides up-to-date regulatory information, a wide variety of educational opportunities, representation before the Legislature and government agencies, group purchasing services, and opportunities for networking with peers to help member communities best serve the needs of Florida's senior population.