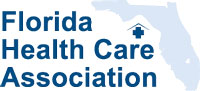 Seasoned Team of Long Term Care Professionals
to Manage CNA Recruitment and Retention Initiative
The Florida Health Care Association has partnered with Q3 Healthcare Consulting to implement the CaregiversFL Career Program, a statewide initiative to increase the number of direct care workers, specifically Certified Nursing Assistants, into the long term care profession. Sponsored by the Florida Health Care Education and Development Foundation, Inc. and the Agency for Health Care Administration, the CaregiversFL Career Program is funded by a federal grant from the Centers for Medicare and Medicaid Services. Q3 Healthcare Consulting will oversee the two-year project, which will focus on raising awareness about long term care as an opportunity for career growth, enhancing the recruitment and retention efforts of Florida's nursing centers and building partnerships with statewide educational, workforce and veterans' organizations to encourage individuals to make long term care their chosen career path.
"Florida's baby boomer population is aging, and having qualified caregivers to meet their needs is imminent," said Emmett Reed, Chief Executive Officer of Florida Health Care Association. "We are proud to partner with the team at Q3 Healthcare Consulting to implement the CaregiversFL Career Program. Each of them bring an understanding of the current workforce challenges we're experiencing, and their passion for the profession and unique talents will be valuable to helping this program with recruiting and retaining qualified staff to be the next generation of long term health care heroes."
The Q3 team includes Jennifer Ziolkowski, Jean Stephens and Kelly Smith who represent over 50 years of combined experience in the senior living industry with a focus on operational effectiveness and continuous quality improvements. Q3 will manage the CaregiversFL Career Program on behalf of FHCA, including outreach activities to potential job candidates and participating nursing centers. Q3 will also work in partnership with Moore, Inc., the project's selected communications and marketing firm that will implement statewide public relations and marketing initiatives to raise awareness about the program.
"At Q3, we are deeply committed to improving resident care, while optimizing organizational efficiencies. We're thrilled to partner with FHCA's Education and Development Foundation and the Agency for Health Care Administration to implement this program and help Florida's long term care providers with rebuilding their workforce to ensure the future of resident quality care," said Jennifer Ziolkowski, Q3 Healthcare Consulting.
The CaregiversFL Career Program will include an interactive website that will help job seekers access career opportunities in Florida's long term and post-acute care profession. Florida.carefortheaging.org features a wealth of resources, including state-specific education requirements, salaries and career-focused testimonial videos from caregivers, developed to inspire high-school students, early career professionals and job seekers looking for new opportunities to pursue a career in the rewarding field of long term care. The site also includes a link to open positions in skilled nursing and assisted living facilities across Florida, along with a built-in interest form to capture information from site visitors, especially those seeking a new career opportunity.
ABOUT THE FLORIDA HEALTH CARE ASSOCIATION
The Florida Health Care Association (FHCA) is a federation that serves nearly 1,000 members and represents more than 500 long-term care facilities that provide skilled nursing, post-acute and subacute care, short-term rehab, assisted living, and other services to the elderly and individuals with disabilities in Florida. The mission of FHCA is to advance the quality of services, image, professional development, and financial stability of its members. As Florida's first and largest advocacy organization for long-term care providers and the elderly they serve, the Association has worked diligently since 1954 to assist its members with continuously improving quality of care and quality of life for the state's growing elder care population. For more information about the Florida Health Care Association, visit http://www.fhca.org.