Florida A&M University (FAMU) Vice President for Student Affairs William E. Hudson Jr., Ph.D., was announced Thursday as the first recipient of the Florida Board of Governor's Norman D. Tripp Excellence in Supporting Student Success Award.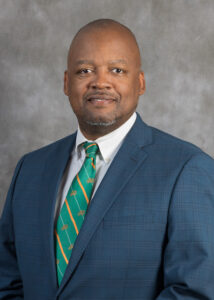 The award announced by the FBOG at its quarterly meeting in Boca Raton, was established in honor of Norman D. Tripp, who served on the State University System (SUS) of Florida Board of Governors (FBOG) from 2008 to 2020. Tripp was well known as a passionate advocate for students and believed that students' academic and personal success was the shared responsibility of all members of the university community.
The award is designed to recognize a State University System (SUS) institution employee who has gone above and beyond their normal job requirements to contribute to the academic and/or personal success of a student or group of students in the previous 12 months.
"It is truly an honor to be the first recipient of this prestigious award.  Having known Governor Tripp and his passion for the students in the great state of Florida, I am humbled by this award," Hudson said. "I would like to thank the students, faculty, and staff of Florida A&M University as I have many individuals who assist me with providing service excellence to students."
A two-time FAMU graduate, Hudson has been vice president for Student Affairs since July 2010. Before that, he directed retention programs at the University. Before returning to FAMU, Hudson was associate director of academic programs at Florida State University, where he earned his Ph.D.
In his present role, Hudson is credited with leading the push for the Center for Access and Student Success complex, which combines all the key student services under one roof. He has successfully led the SUS Council of Student Affairs during the COVID-19 epidemic, including implementing the Kognito Mental Health training for faculty and staff. All SUS universities met the required goal for completion.
Hudson also worked closely with Governor Tripp on many of the FBOG's initiatives to support students through hazing prevention, crisis communication, and the Drug, Alcohol, Mental Health taskforce. Hudson supports wrap-around services to assist students with personal and professional development. He is the current chair of the State of Florida Articulation Committee and the Work Group for Post-Secondary Credit for Military Courses and Occupations. In these roles, he leads the state-wide initiative for high school, state/community Colleges, and SUS universities articulation agreements, course numbering system, and educational enhancements that impact all students in the State of Florida.
President Larry Robinson, Ph.D., said Hudson is more than deserving to be the first recipient of the Norman D. Tripp Excellence in Supporting Student Success Award.
"At FAMU, student success is at the heart of our mission. Dr. Hudson has been a tireless advocate for student success, and he gets results. Under his leadership, we have seen an amazing enhancement in the academic profiles of admitted students and significant improvements in our graduation and retention rates," Robinson said. "He has worked collaboratively within FAMU to establish "2+2" agreements with 18 Florida College System institutions that provide additional opportunities for students to attend this institution. Hudson coined the phrase "we don't reject students, but rather redirect them" to find alternative routes to pursue their dreams to become Rattlers."
To be eligible for the Tripp Award, nominees must meet two or more of the following requirements and exceeds the normal requirements of their job in doing so.
Nominee contributes to the personal, professional, or academic development of a student or group of students.
Nominee helps to foster a student-centered atmosphere.
Nominee contributes to the retention of a student or group of students.
Nominee aids the development of academic and/or life skills.
Each SUS Institution may nominate up to three employees by submitting a statement of 500 words or fewer describing why the individual is deserving of this award.