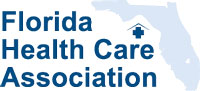 Joint Legislative Budget Commission Approves
$99.5 Million in Temporary Medicaid Funding
Florida Health Care Association released the following statement today following the Joint Legislative Budget Commission's approval of $99.5 million in short-term financial relief for Florida nursing centers. Funding will be distributed to centers through temporary increased Medicaid reimbursement rates over a three-month period.
The following statement is attributable to Emmett Reed, Chief Executive Officer of FHCA:
"We want to thank Governor DeSantis, Senate President Simpson, House Speaker Sprowls, Senator Kelli Stargel, Representative Jay Trumbull and their colleagues, as well as Agency for Health Care Administration Secretary Simone Marstiller, for recognizing the tremendous strain the pandemic has put on Florida's nursing centers. Financial challenges have made it increasingly difficult for providers to sufficiently invest in their workforce and support our health care heroes. This much-needed Medicaid funding will help Florida's nursing centers begin to emerge from this double-edged workforce and economic crisis so they can continue providing the highest quality of care possible to those they serve."
"Allowing providers the means to offer competitive wages so they can attract and retain employees is a significant step in ensuring that Florida's long term caregivers are supported and that our seniors have access to the quality long term care they expect and deserve."
ABOUT THE FLORIDA HEALTH CARE ASSOCIATION
The Florida Health Care Association (FHCA) is a federation that serves nearly 1,000 members and represents more than 500 long-term care facilities that provide skilled nursing, post-acute and subacute care, short-term rehab, assisted living, and other services to the elderly and individuals with disabilities in Florida. The mission of FHCA is to advance the quality of services, image, professional development, and financial stability of its members. As Florida's first and largest advocacy organization for long-term care providers and the elderly they serve, the Association has worked diligently since 1954 to assist its members with continuously improving quality of care and quality of life for the state's growing elder care population. For more information about the Florida Health Care Association, visit http://www.fhca.org.