The Florida Municipal Electric Association (FMEA) recognized JEA with a "Building Strong Communities" award for making valuable investments that enhance the quality of life in the community.
FMEA recognized public power utilities for leading community-focused programs that go beyond efficient delivery of affordable, reliable and clean energy.
JEA received recognition for the following community initiatives in the past year:
COVID Response: JEA organized two COVID vaccination clinics outside its downtown headquarters after the death of Dr. Leon Haley Jr., a JEA board member and CEO of UF Health Jacksonville.
Career Days / Mentoring: JEA held 13 virtual career fairs, introducing more than 1,100 students to technology and engineering opportunities at JEA.
Helping the Homeless: JEA volunteers assembled furniture for 50 houses in a HabiJax community of tiny houses in Jacksonville's Westside.
Job Shadowing: The Sandalwood Early College Program, a partnership between JEA, Duval County Public Schools and Florida State College at Jacksonville, provides mentorship and internships for Sandalwood High School students.
"I'm proud of JEA teams for receiving this recognition among other public utilities in Florida," said JEA Managing Director & CEO Jay Stowe. "I'm particularly proud that we are being recognized for living out our mission to improve lives and build community in Northeast Florida. It's what we do every day at JEA."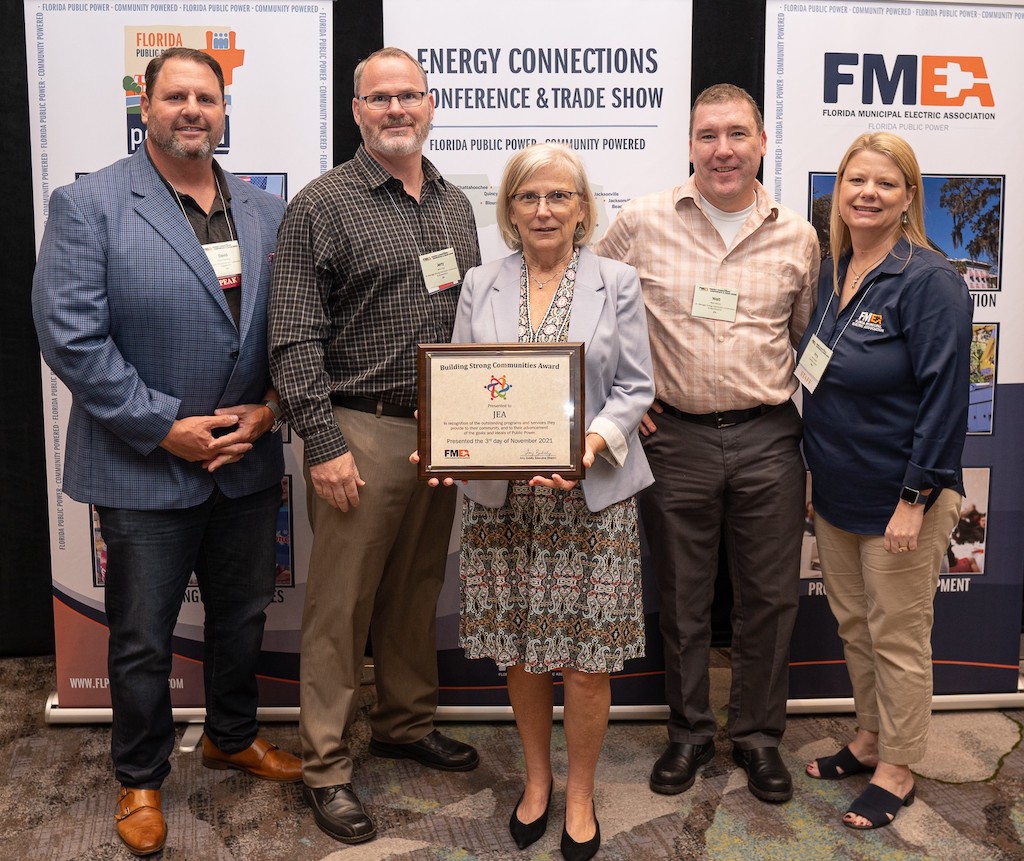 From left, David Goldberg, JEA director of Customer & Community Engagement; Jerry Creel, senior manager of JEA Energy Distribution, Construction & Maintenance; Deborah Beaver, director of JEA Business Development & Community Project Management; Walter Hiscox Jr., manager of JEA Distribution, Construction & Maintenance; Amy Zubaly, executive director of Florida Municipal Electric Association.
FMEA announced the awards at its Energy Connections Conference & Trade Show in Orlando on Nov. 3. JEA joined 21 other public power utilities in receiving a Building Communities award.
"The people of public power utilities are eager to contribute more to their communities than just doing their job to keep the lights on and power flowing," FMEA Executive Director Amy Zubaly said. "These hard-working men and women are dedicated to making the communities they serve — the communities they live in — a better place for everyone."
Florida's 33 public power utilities serve more than 3 million customers, 14 percent of electric utility customers in the state. JEA, a not-for-profit, community-owned utility, serves an estimated 478,000 electric customers in Northeast Florida.
About JEA
JEA is a not-for-profit, community-owned utility located in Jacksonville, Florida, proudly serving an estimated 478,000 electric, 357,000 water, 279,000 sewer and 15,000 reclaimed water customers. JEA is not owned by investors. It was created by the City of Jacksonville to serve those who live in Jacksonville and in the surrounding communities. The sole purpose of JEA's business is to ensure the electric, water and sewer demands of its customers are met, both today and for generations to come with the goal to provide reliable services at the best value to our customers while ensuring our areas' precious natural resources are protected.