Nearly 70 solar advocates assembled at the OUC Commission meeting on November 9 to support consumer-friendly policies that would allow Floridians to invest in rooftop solar as an affordable, clean energy solution. Residential utility customers, small businesses, and solar workers joined together to urge Orlando Mayor Buddy Dyer and OUC Commissioners to support solar growth by continuing net metering. Net metering is a policy that ensures solar owners earn fair credit for the excess electricity they generate.
Florida's monopoly utilities have repeatedly attacked rooftop solar consumers and energy freedom. Utilities have launched this attack to maintain their monopoly in the face of growing rooftop solar adoption. Self-serving utilities oppose decentralized ownership and want to maintain complete control over solar and new energy sources.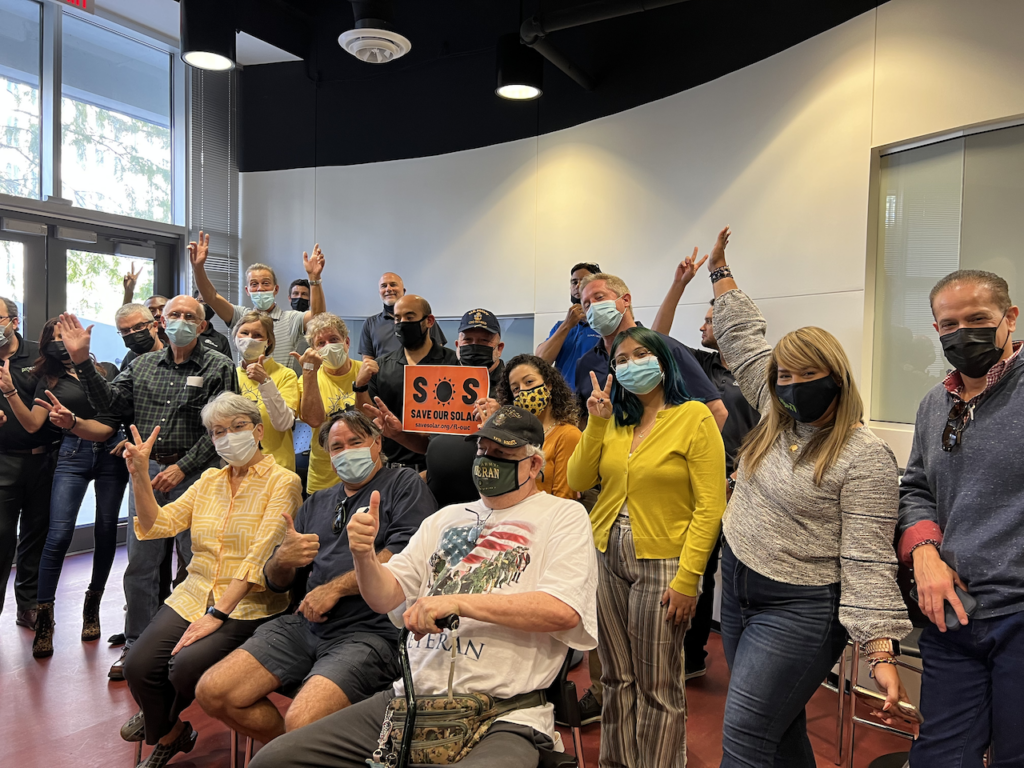 "Despite promises from monopoly utilities, energy bills continue to rise and Florida's families continue to pay the price. Solar has become an affordable solution for all Floridians. Prices have fallen 36% over the last five years. Net metering lowers the costs for all electric customers by making the grid more efficient. Mayor Dyer and OUC Commissioners must stand up against monopoly utilities and serve as our champion to protect rooftop solar." – Heaven Campbell, State Director, Solar United Neighbors of Florida
"Today's turnout made it clear that Floridians won't let a misinformation campaign against net metering undermine local jobs, grid resilience, and economic development. We're calling on Mayor Dyer to listen to the voices of the community he serves and protect the right of Orlando residents to control their own energy." Katie Chiles Ottenweller, Southeast Director, Vote Solar
"Florida is one the leading states for solar industry growth. If net metering is eliminated, over 400 solar companies in the state would suffer and the nearly 40,500 Florida jobs supported by the rooftop solar industry would be put in jeopardy. I hope Mayor Dyer and OUC Commissioners make the right decision to keep the lights on for Florida's solar businesses." Justin Vandenbroeck, President, Florida Solar Energy Industries Association
"As a small business owner, I'm tired of navigating government mandates that make my industry less competitive. Net metering policies will keep Florida's solar industry on track for its projected growth to add 12,045.57 MW over the next five years. If Mayor Dyer and OUC Commissioners allow monopoly utilities to stifle rooftop solar by eliminating consumer-friendly net metering policies, my entire livelihood and my employees are at risk to lose it all." Pete Rosen, Founder and CEO, ProSolar Systems
For more information, visit solarunitedneighbors.org/ouc.
About Solar United Neighbors
Solar United Neighbors is a nonprofit organization that works in Florida and across the country to represent the needs and interests of solar owners and supporters. Solar co-ops are part of the organization's mission to create a new energy system with rooftop solar at the cornerstone. Solar United Neighbors holds events and education programs to help people become informed solar consumers, maximize the value of their solar investment, and advocate for fair solar policies.