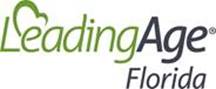 LeadingAge Florida, Florida's only association representing the entire continuum of care for older adults, issued a statement today regarding state and federal vaccine mandates.
The statement is attributable to President and CEO Steve Bahmer.
"Last week CMS posted its vaccine mandate rule which applies to all certified Medicare and Medicaid providers. The rule states that all long-term care staff must be fully vaccinated by January 4 and the failure to comply will result in monetary penalties, denial of payment and even termination from the Medicaid and Medicaid program as a final measure.
Next week during a special session Florida's lawmakers are poised to pass legislation that would restrict vaccine mandates for employers, making it impossible for providers to be in compliance with both state and federal guidance unless a healthcare exemption is put in place.
Nursing homes must comply with the federal rule because the federal law trumps state law. The loss of Medicaid and Medicare funding would be devastating to providers and could ultimately displace Florida's most frail elders.
We cannot penalize long-term care providers who serve the state's most vulnerable population and that have borne the greatest impact from this pandemic."
For more than 58 years, LeadingAge Florida has been the state's leading advocate for high-quality senior living, aging services and care. We are the only statewide association representing the full continuum of care for seniors. The Association provides up-to-date regulatory information, a wide variety of educational opportunities, representation before the Legislature and government agencies, group purchasing services, and opportunities for networking with peers to help member communities best serve the needs of Florida's senior population.