By Chloe Dinard
The City of Tallahassee Commission honored former Florida A&M University head football coach Rudy Hubbard with the key to the city Wednesday.
At the start of the Commission's regular meeting, City Commissioner Dianne Williams-Cox read the proclamation and lauded Hubbard for his profound impact and service to the community.
"One of the greatest, if not the greatest honor of being mayor of the great city of Tallahassee, is handing out this prestigious award," Mayor John Dailey told the gathering as Hubbard stood with FAMU President Larry Robinson, Ph.D., current Head Coach Willie Simmons and others.
The honor comes as Hubbard is about to be inducted into the College Football Hall of Fame in Last Vegas, Nevada in December, when he will be enshrined for his coaching exploits, including an 84-48-3 overall record as the Rattlers head coach. The former coach moved from his native state of Ohio to Tallahassee in the 1970's and served as the head coach from 1974-85. His most successful stretch was 1977-79. when his teams compiled a 30-5 record and won back-to-back Black College National Championships. After retiring in 1985, Hubbard returned to the sidelines as a football coach at James S. Rickards High School in Tallahassee from 2008 to 2011.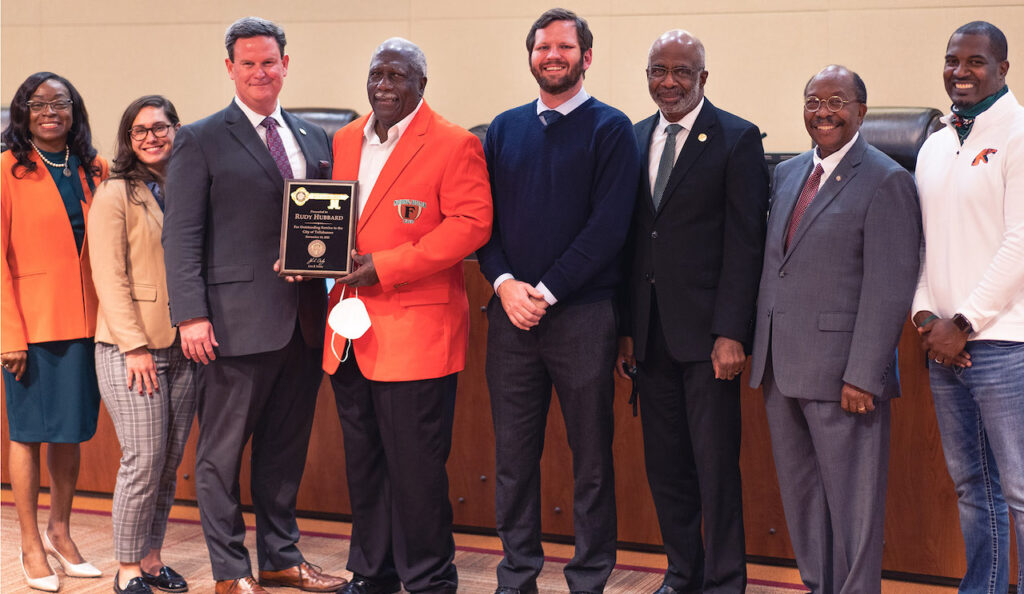 Rudy Hubbard with Tallahassee City Commissioners, President Larry Robinson and Coach Willie Simmons.
Photo Credit: City of Tallahassee
"It's an honor to get this presentation. I didn't know when I moved to Tallahassee that I would stay here. [It] is my home now," said Hubbard, who wore his FAMU orange jacket for the occasion.
President Robinson congratulated Hubbard and expressed his appreciation for the retired coach's impact on the University. He said he brags about Hubbard all the time.
"We will be the best at everything we do, and you led the way," Robinson told Hubbard. "What you've done, no one else can really do."
Simmons called Hubbard a close friend and mentor. He said he reached out to Hubbard as soon as he got the FAMU coaching job.
"I am honored to be in the presence of greatness," said Simmons, who highlighted Hubbard's distinction as the first and only HBCU coach to win a NCAA 1AA division (now FCS) national championship.
"I've always admired who he is as a person, what he stood for and his impact that he has had not only on the university but this community."