Only Hospital in Big Bend Region Nationally Recognized with
an 'A' for the Fall 2021 Leapfrog Hospital Safety Grade
For the 5th consecutive time, Capital Regional Medical Center, an affiliate of HCA Healthcare North Florida Division, is the only hospital in the region to receive an 'A' Leapfrog Hospital Safety Grade for fall 2021.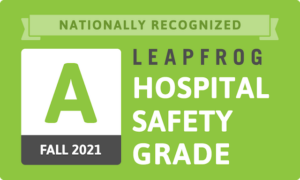 This national distinction recognizes Capital Regional's achievements in protecting patients from harm and error in the hospital.
"Being awarded our fifth consecutive Leapfrog Grade 'A' for providing safe patient care, is an extraordinary feat, especially during the COVID-19 pandemic," said Trey Blake, MD, Chief Medical Officer at Capital Regional Medical Center. "This further demonstrates the unwavering dedication of our healthcare teams to keeping our patients safe. One thing about this award – it's for the people who do all the hard work behind the scenes. This 'A' is a standing ovation for them. It doesn't matter how many times we earn this honor, it is always very special."
The Leapfrog Group, an independent national watchdog organization, assigns an "A," "B," "C," "D," or "F" grade to general hospitals across the country based on over thirty national performance measures reflecting errors, injuries, accidents and infections, as well as systems hospitals have in place to prevent harm.
The Leapfrog Hospital Safety Grade is the only hospital ratings program based exclusively on hospital prevention of medical errors and harms to patients. The grading system is peer-reviewed, fully transparent and free to the public. Grades are updated twice annually, in the fall and spring.
"An 'A' Safety Grade is a tremendous achievement, of which this community should be extremely proud," said Leah Binder, president and CEO of The Leapfrog Group. "I thank the leadership and workforce of Capital Regional Medical Center for its commitment to prioritizing patients and their safety, especially during these trying times."
To see Capital Regional's full grade details and to access patient tips for staying safe in the hospital, visit HospitalSafetyGrade.org.
About Capital Regional Medical Center
Capital Regional Medical Center is a fully-accredited healthcare facility with more than 1,400 employees and 380 physicians. We are a 266-bed, acute-care hospital that offers 24/7 Emergency Services in Leon and Gadsden Counties. Offerings also include a Bariatric Center, Behavioral Health Center, Burn Clinic, Cancer Center, Chest Pain Center w/PCI, Comprehensive Breast Center, Family Center, Heart & Vascular Center, Orthopedic/Spine Center, Physical Therapy Services, Stroke Center, Surgical Services, Network-of-Care Affiliated Physician Practices, and more.
About HCA Healthcare North Florida Division
The HCA Healthcare North Florida Division is a comprehensive network of 14 hospitals, numerous outpatient surgery centers & imaging facilities, physician practices, medical education training programs and a complete continuum of specialized health programs and services that meet the healthcare needs of residents and businesses in the North Florida and Central Florida communities. HCA Healthcare North Florida physicians and employees continue to provide the quality foundation for delivering care to our patients safely, effectively and compassionately. Its hospitals are Joint Commission Accredited, with designations such as Accredited Chest Pain Centers, Primary Stroke Center Certification and four Level II Trauma Centers in Marion, Okaloosa, Osceola and Seminole county.
About The Leapfrog Group
Founded in 2000 by large employers and other purchasers, The Leapfrog Group is a national nonprofit organization driving a movement for giant leaps forward in the quality and safety of American health care. The flagship Leapfrog Hospital Survey and new Leapfrog Ambulatory Surgery Center (ASC) Survey collect and transparently report hospital and ASC performance, empowering purchasers to find the highest-value care and giving consumers the lifesaving information they need to make informed decisions. The Leapfrog Hospital Safety Grade, Leapfrog's other main initiative, assigns letter grades to hospitals based on their record of patient safety, helping consumers protect themselves and their families from errors, injuries, accidents, and infections.