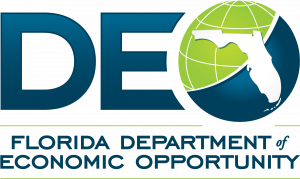 Florida Department of Economic Opportunity (DEO) Secretary Dane Eagle today commended Governor DeSantis' Fiscal Year 2022-23 Freedom First Budget, which continues his bold commitment to continue driving Florida's economy, empowering Florida's businesses and Floridians, and developing communities throughout the state.
Thanks to strong investments in job creation and policies that support businesses and employees, Florida's economy is taking off and growing faster than the nation. In November, the Governor and DEO announced that Florida has continued to make economic progress throughout the year and is outpacing the nation thanks to successful policies that put Floridians and Florida businesses first. October marked 18 consecutive months of job growth and 12 consecutive months of labor force increases.
In October, Florida's labor force grew to a total of 10,590,000, representing a 5.8% increase over the year compared to 0.5% nationally.
Florida's October economic data showed private-sector employment increased by 424,300, or 5.7%, over the year, higher than the national rate of 4.5%.
Florida's private-sector job growth rate was 0.6% from September to October, higher than the national rate of 0.5%.
Governor DeSantis' Freedom First Budget includes:
A record investment of $100 million in the Florida Job Growth Grant Fund;
An historic $105 million for the Rural Infrastructure Fund, an increase of more than $100 million over prior year funding;
$50 million in recurring funds for VISIT FLORIDA's marketing programs to showcase that Florida is open;
$220 million for a second round of $1,000 relief payments for Florida's first responders; and
534 million for workforce education programs.
Secretary Dane Eagle provides the following statement in support of Governor DeSantis' Freedom First Budget:
"Thanks to the leadership of Governor DeSantis, Florida continues to outpace the nation in job growth and provide meaningful opportunities for Floridians to succeed and prosper, while the Governor's Freedom First Budget champions the state's economic development vision to bring our state's economy and workforce to a new level. Through programs such as the Florida Job Growth Grant Fund, the Governor is investing in workforce training projects that will continue to provide Floridians with transferable and sustainable workforce skills that will bolster our state's world-class talent pipeline, while strategically supporting local infrastructure projects that establish the framework for communities to recruit new businesses, job opportunities, and strengthen local economies."
"In the Freedom First Budget, Governor DeSantis continues to make decisions that guide the future success of the state of Florida, and the Governor is committed to providing DEO with the resources needed to continue modernizing technology that will enhance the state's Reemployment Assistance system while maintaining fiscal accountability by providing additional resources to stop fraud within the program. It provides for improved integrated services to Floridians to help them gain new skills and guide them to a path for economic sustainability. Freedom First Budget also prioritizes the Governor's commitment to long-term disaster recovery, mitigation support, and affordable workforce housing opportunities, allowing communities to become more resilient to future disasters and alleviate impacts from unpredictable challenges. In addition to these programs, Governor DeSantis realizes that public safety is paramount, and DEO is honored to continue supporting our Governor in recognizing Florida's courageous law enforcement heroes who run into danger every day to protect and serve our communities. We look forward to expanding upon our ongoing efforts with partner agencies, including CareerSource Florida, Enterprise Florida, VISIT Florida, Space Florida, the Florida Housing and Finance Corporation, and community stakeholders throughout the state to support Governor DeSantis' efforts to ensure the Sunshine State remains a land of freedom and opportunity for all who make it their home."
The dedicated team at DEO works every day to support Governor DeSantis' mission in prioritizing the needs of Floridians and making our state the best state in the nation. DEO is proud to stand with Governor DeSantis and support his recommendations for the Fiscal Year 2022-23 Freedom First Budget and applauds his commitment to the success of our state.
About DEO
The Florida Department of Economic Opportunity combines the state's economic, workforce, and community development efforts, expediting economic development projects to fuel job creation in competitive communities and promote economic resiliency. For more information, including valuable resources for employers and job seekers, please visit www.FloridaJobs.org.