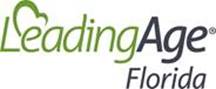 LeadingAge Florida applauds Governor Ron DeSantis for continuing to prioritize seniors through funding for nursing homes, home and community-based services, the Sadowski Trust Fund and Alzheimer's disease research.
"We know the Governor was faced with a number of difficult decisions in preparing his budget proposal and we deeply appreciate his continued prioritization of seniors," said Steve Bahmer, LeadingAge Florida President & CEO. "Caregivers in nursing homes have done truly incredible work in serving seniors throughout the pandemic, and these resources will help ensure that Florida's seniors continue to have access to the highest quality of care. Furthermore, investments in home and community based services as well as affordable housing for low-income seniors can lead to considerable cost savings for the state through the delivery of necessary wraparound services. We are also grateful for the additional Alzheimer's disease research funding, which will be critical for advancements in diagnostics, prevention and treatment of the disease."
The Governor's Freedom First Budget, released earlier today, provides key funding to ensure the state's most vulnerable population will continue to have access to the highest quality care, resources and services.
5% Medicaid reimbursement rate increase for nursing homes
$226.5 million through increased rates to support higher pay for direct care staff in Home and Community Based settings
$355.5 million to fund the Sadowski Affordable Housing Trust Funds, which includes $95 million for the State Apartment Incentive Loan (SAIL) Program, and $220.5 million for the State Housing Initiatives Partnership Program (SHIP)
$15 million in funding to support Alzheimer's disease research to enhance diagnosis and prevention strategies for those impacted by this disease
For more than 58 years, LeadingAge Florida has been the state's leading advocate for high-quality senior living, aging services and care. We are the only statewide association representing the full continuum of care for seniors. The Association provides up-to-date regulatory information, a wide variety of educational opportunities, representation before the Legislature and government agencies, group purchasing services, and opportunities for networking with peers to help member communities best serve the needs of Florida's senior population.