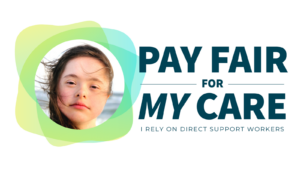 Disability services are chronically underfunded, and the problem has only been exacerbated by the pandemic. With nationwide shortages of Direct Support Professionals (DSPs) and an annual turnover rate of over 50 percent, the workforce has diminished.
DSPs fulfill many critical roles, especially for individuals with intellectual and developmental disabilities. They build relationships and oftentimes provide around-the-clock care. DSPs serve as the bedrock of the many supports and services provided through Florida's Medicaid Home- and Community-Based Services iBudget Waiver. However, advocates say they are leaving the profession in large numbers due to a lack of pay increases and sustainable wages.
To put a spotlight on the problem, the Florida Developmental Disabilities Council (FDDC) has announced the launch of a statewide public advocacy campaign, Pay Fair for My Care, in which hundreds of individuals and their families are urging lawmakers to increase DSP rates to levels commensurate with a livable wage.
"While we commend Governor DeSantis for the proposed spending plan for health care services, the state must recognize we are dealing with a workforce crisis," said FDDC Executive Director Valerie Breen. "Direct support workers are some of the most underpaid, undervalued professionals in our state, yet they are the lifeline for people living with developmental disabilities."
In Florida, DSP wages have not been substantially increased for years.
Supporters of the Pay Fair for My Care initiative are urging the Florida Legislature to provide funding to alleviate workforce shortages and retention challenges. These combined efforts will help to ensure individuals, families and providers have access to dedicated and reliable direct support workers, says Breen.
FDDC is asking self-advocates, family members and DSPs to get involved with Pay Fair for My Care by submitting personal stories to testify on the critical importance of quality care. Stories will be used to represent the hundreds of Floridians asking lawmakers to "Pay Fair for My Care!"
Information about this campaign can be found at fddc.org/pay-fair-for-my-care.
The Florida Developmental Disabilities Council (FDDC) leads the Pay Fair for My Care campaign to advocate for changes that do not interfere with an individual's inclusion in the community or force individuals into more costly and restrictive settings. The mission of the FDDC is to advocate for and promote meaningful participation in all aspects of life for Floridians with developmental disabilities. Learn more at www.fddc.org.