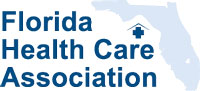 Association Continues Working to Ensure Quality Care for Florida's Seniors
The Florida Health Care Association (FHCA) today released its priorities for the legislative session that begins tomorrow, with a focus on ensuring that Florida's elders have access to high-quality care. As the state's nursing centers continue their fight against COVID-19 amid staffing and financial challenges, FHCA is advocating for solutions that will help facilities continue to meet the needs of their residents.
FHCA's 2022 legislative agenda focuses on the following key priorities:
Ensuring proper resources for Florida's nursing center residents:

Gov. Ron DeSantis led the way in prioritizing Florida's long term care workers and residents in his Freedom First budget recommendations for FY 2022-2023. FHCA will work with the Senate and House as they develop a final state budget to ensure that Florida's nursing centers are properly funded to help them recruit and retain caregivers and continue making quality improvements to resident care.

Modernizing Florida's staffing requirements:

Nursing center residents have much different needs today than they did 20 years ago, when Florida first established its staffing requirements for nursing facilities. FHCA will work to modernize these requirements so they focus on resident-centered care, creating a more comprehensive caregiving environment for the state's vulnerable nursing center residents.

Extend COVID-19 liability protections for health care providers, including long term care:

Florida's long term caregivers are still battling COVID-19, and the latest surge in cases due to the Omicron variant shows there is still a risk of the virus spreading. FHCA will advocate for the extension of the COVID-19 liability protections passed during the 2021 session so long term care centers can keep their resources focused on the residents and our heroic caregivers can do their jobs without fear of being sued.

Addressing workforce challenges:

Workforce challenges have been an issue for nursing centers for years, and the ongoing COVID-19 pandemic has significantly exacerbated the problem. As this threatens nursing centers' ability to provide high-quality care to their residents, addressing these workforce challenges with long-lasting solutions remains one of FHCA's top priorities.
"Between recent rises in statewide COVID-19 cases and long-standing staffing and financial difficulties, Florida's long term care centers face significant threats to providing the highest quality care to their residents," said FHCA Chief Executive Officer Emmett Reed. "FHCA looks forward to working with state leaders this session to address these pressing problems and ensure that our long term care facilities have the staff they need to continue serving Florida's growing elderly population."
For more information about FHCA's 2022 legislative priorities, click here.
ABOUT THE FLORIDA HEALTH CARE ASSOCIATION
The Florida Health Care Association (FHCA) is a federation that serves nearly 1,000 members and represents more than 600 long-term care facilities that provide skilled nursing, post-acute and subacute care, short-term rehab, assisted living, and other services to the elderly and individuals with disabilities in Florida. The mission of FHCA is to advance the quality of services, image, professional development, and financial stability of its members. As Florida's first and largest advocacy organization for long-term care providers and the elderly they serve, the Association has worked diligently since 1954 to assist its members with continuously improving quality of care and quality of life for the state's growing elder care population. For more information about the Florida Health Care Association, visit http://www.fhca.org.