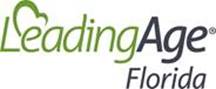 LeadingAge Florida, Florida's only association representing the entire continuum of care for older adults, issued a statement following the news conference held by Representative Carlos Guillermo Smith, Senator Audrey Gibson and senior care advocates.
The following statement can be attributed to LeadingAge Florida President & CEO Steve Bahmer.
"We have always been supportive of accountability and transparency, and we appreciate Rep. Smith and Sen. Gibson's work to provide for enhanced accountability.
Billions of taxpayer dollars are spent each year on Medicaid reimbursement for Florida nursing homes, and it's reasonable to expect that those dollars result in the delivery of the highest-possible quality of care for Florida seniors.
One of our primary concerns with the reimbursement system put into place in 2017 has been that it does not provide accountability for how Medicaid funds are spent.
At the same time, we believe continued evaluation of the reimbursement system to drive accountability along with increased investments in direct care will help providers deal with the workforce crisis and invest in the staff who care for our residents.
We look forward to working with the Florida Legislature and other key stakeholders on these important issues."
For nearly 60 years, LeadingAge Florida has been the state's leading advocate for high-quality senior living, aging services and care. We are the only statewide association representing the full continuum of care for seniors. The Association provides up-to-date regulatory information, a wide variety of educational opportunities, representation before the Legislature and government agencies, group purchasing services, and opportunities for networking with peers to help member communities best serve the needs of Florida's senior population.