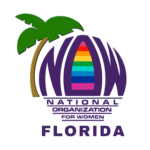 Florida NOW leaders are appalled that Florida's proposed abortion law, HB 5, passed through its first committee stop today in the Professions & Public Health Committee. The votes were 12-5 in favor of the ban, proving just how out of touch the Republican majority is with the will of the people. Most Floridians do not support restrictions on reproductive freedom, a fact illustrated by the public comment that opposed the ban at a ratio of 2:1.
Florida NOW Racial Justice Task Force leader Jacquelyn McMiller fears an abortion ban will further compound racial disparities in maternal health. "The passage of HB 5 will only widen the racial disparities within the maternal healthcare system where black and brown women are two to three times more likely to die from pregnancy-related causes than white women," she said. "Forcibly requiring a woman to give birth is unfathomable. We do not live in an authoritarian society."
In the state of Florida, 48.6% of the pregnancy-associated deaths in 2018 were of non-Hispanic Black women. That's almost half of all pregnancy-related deaths in the state, while Black Floridians only make up 15.5% of the state population. That means Black patients in Florida are three times more likely to die from childbirth than white ones.
A law banning abortion at 15 weeks would create huge obstacles for pregnant Floridians seeking access to abortion. The closest state for such reproductive healthcare would be North Carolina. Cost and time requirements associated with traveling out-of-state for the procedure would disportionately impact those with lower incomes and disabilities.
"With the wage gap being even greater for Black and Brown women, these are the communities sure to be most disadvantaged by this ban," said McMiller. (or similar)
The next stop for the bill in the House will be the House Health Care Appropriations Committee, where it could be heard again as early as next week. The bill has yet to be heard in the Senate, though with only two committee assignments it is fast-tracked with its first Senate stop in the Health Policy Committee likely to be next week.
Florida NOW remains committed to doing whatever it takes to stop the abortion ban. For more information please contact Florida NOW Communication Director Kat Duesterhaus [email protected] or 772.267.6353.