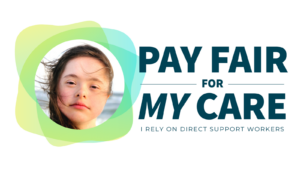 Shining a spotlight on the direct support workforce shortage thousands of Floridians with intellectual and developmental disabilities are facing, individuals, family members, support organizations and disability rights advocates are calling on lawmakers to "Pay Fair for My Care" during Wednesday's 2022 Virtual Developmental Disabilities and Awareness Day (DD Day).
Direct Support Professionals (DSPs) fulfill many critical roles, especially for individuals with intellectual and developmental disabilities as well as serve as the bedrock of the many supports and services provided through Florida's Medicaid Home- and Community-Based Services iBudget Waiver. However, advocates say DSPs are leaving the profession in large numbers due to a lack of pay increases and sustainable wages.
Scheduled for Wednesday, February 9, DD Day will bring together hundreds of individuals, family members and DSPs who will hear and share stories on why quality care is critical for their well-being and survival.
"For more than 20 years, DD Day has been a staple among disability rights advocates and we are dedicated to providing a platform to make voices heard at the state level," said Valerie Breen, executive director of the Florida Developmental Disabilities Council (FDDC). "While we were hoping to be back at the State Capitol this year, the Florida Legislature must understand the critical importance of funding to help alleviate workforce shortages among direct support professionals."
With nearly 1,000 attendees in 2021, this is the second year the FDDC will host the event virtually.
Starting at 9 a.m., attendees will have the opportunity to hear from special guest speakers as well as participate in breakout sessions with exhibitors. Speaker of the House Chris Sprowls, Senator Aaron Bean and other key lawmakers will share special messages of encouragement and action during the closing session.
DD Day is free and open to anyone interested in attending. Online registration is required in order to access the event. For additional information and to complete the registration form, go to ddday2022.org.
The mission of the Florida Developmental Disabilities Council (FDDC) is to advocate and promote meaningful participation in all aspects of life for Floridians with developmental disabilities. www.fddc.org.