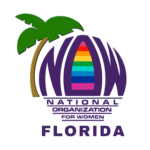 While Chairman Chuck Brannan of the House Criminal Justice & Public Safety Subcommittee has refused to schedule HB 525 – the bill to close Florida's Rape Loophole – it's companion bill SB 868 has passed through all 3 committees of reference with unanimous support. Florida NOW leaders and many others across the state are both furious and baffled by Brannan's blocking of this bill.
Under current Florida law, victims who become incapacitated because they chose to drink or do drugs are treated differently. As survivor of alcohol-faciliated sexual assault and Florida NOW leader, Kat Duesterhaus testified before the Senate Criminal Justice Committee: "If someone gets drunk, are they fair game to be shot, stabbed, or robbed? Why on earth should perpetrators of rape and other sexual assaults get a free pass? Initiating sexual contact with someone because they are incapacitated and unable to resist or even passed out, is SEXUAL ASSAULT. Period. There should be no "he said, she said" defenses to this."
While this would seem an obvious loophole to close and be rid of, Representative Robert Charles "Chuck" Brannan III doesn't agree. This is despite the hundreds of calls and emails made to his office in support of closing the loophole from Floridians across the state, and support from Florida Council Against Sexual Violence (FCASV), RAINN, League of Women Voters of Florida, UUJF, and Florida NOW.
"At this point we can't help but wonder what the Representative has against rape victims," said Florida NOW Vice President Sandra Weeks. "By holding out on HB 525 and other rape law reform bills, he's holding victim's rights hostage."
Florida NOW will always protect and fight for victims' rights. We'll continue to work to make sure this loophole gets closed.
For more information please contact Kat Duesterhaus at [email protected] or 772.267.6353.
For those looking to add their voice in support, please visit https://actionnetwork.org/lett… to email and tweet Brannan and the committee members in just a few clicks.