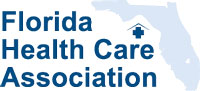 House Bill 1239 Puts the Focus on Resident Care Needs
The Florida Health Care Association (FHCA) today applauded the House Finance & Facilities Subcommittee for advancing HB 1239, which modernizes the staffing standards in Florida's nursing centers to enhance care for residents.
"The needs of Florida's elderly nursing center residents have changed over the years, and many of today's residents need a range of services from multiple different specialists trained to meet these various care needs. Staffing requirements established years ago no longer meet today's circumstances, and we appreciate Representative Melo and members of the committee for recognizing that it's time for the standards to be modernized," said FHCA Chief Executive Officer Emmett Reed.
In testimony before the House committee, Amina Dubuisson, Vice President of Clinical Services for Ventura Health Services, described the changing medical make up of today's nursing center residents. She noted that many residents have breathing problems that require tracheostomy tubes, are living with Alzheimer's disease-dementia or traumas that require mental health professionals, are recovering from a heart attack or stroke or are experiencing other unique care challenges. Dubuisson shared how the comprehensive care model envisioned in the legislation will improve quality outcomes by helping to reduce residents' use of antipsychotic medications and lowering their risk of returning to a hospital. "These alternative care models require more than a certified nursing assistant," Dubuisson said. "When they work together with our CNAs, these specialists can help identify when changes occur in those residents and help modify treatment plans in order to lead to better outcomes."
Dubuisson also addressed how a comprehensive care approach would support the work of the CNA and help alleviate staff burnout. "Utilizing these specialists helps reduce the stress and anxiety on the CNA, who may be trying to deliver care to these medically complex residents, but don't have the training to recognize triggers," she said
Fifty-year veteran nurse Peggy Norris of Signature HealthCARE said how the specialists included in the bill are already interacting with residents every day. "The occupational therapist spends a significant amount of time in the resident's room, helping them develop self-care skills, said Norris. "For residents with dementia or Alzheimer's disease, they focus on adapting their visual, perceptual, cognitive, and fine motor activities throughout the stages of the illness to help individuals achieve their highest level of function for as long as possible."
House Bill 1239 modernizes Florida's staffing standards which were established in 2001. The bill incorporates the clinical disciplines that are recognized by the federal Centers for Medicare and Medicaid Services as direct care staffing positions, including licensed nurses and certified nursing assistants (CNAs), and expands those direct care standards to also recognize respiratory, occupational, speech and physical therapy staff, as well as mental health services workers and social services staff.
The legislation, sponsored by Rep. Lauren Melo (R-Naples) maintains the minimum weekly average of 3.6 hours of combined direct care with the expanded disciplines (licensed nursing, CNA and other direct care staff); as well as the minimum daily licensed nurse staffing of 1.0 hour per resident per day. The bill also ensures that each resident continues to receive a minimum of 2.0 daily hours of CNA care. Similar legislation in the Senate, SB 804 by Sen. Ben Albritton (R-Bartow), is set to be heard in the Senate Health Policy Committee on Thursday.
"FHCA is grateful to Representative Melo for working to modernize Florida's outdated staffing requirements, in order to properly account for specialists and ensure individualized, holistic care," FHCA's Reed said. "That is a key step in improving both quality of care and quality of life for seniors and individuals with disabilities across Florida."
ABOUT THE FLORIDA HEALTH CARE ASSOCIATION
The Florida Health Care Association (FHCA) is a federation that serves nearly 1,000 members and represents more than 500 long-term care facilities that provide skilled nursing, post-acute and subacute care, short-term rehab, assisted living, and other services to the elderly and individuals with disabilities in Florida. The mission of FHCA is to advance the quality of services, image, professional development, and financial stability of its members. As Florida's first and largest advocacy organization for long-term care providers and the elderly they serve, the Association has worked diligently since 1954 to assist its members with continuously improving quality of care and quality of life for the state's growing elder care population. For more information about the Florida Health Care Association, visit http://www.fhca.org.