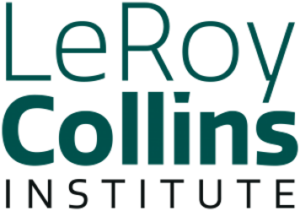 New report foresees low-income Floridians at-risk as climate change alters state's coasts
With Florida already in the midst of an affordable housing crisis, low-income and working-class Floridians are more likely to be displaced from their homes and communities by rising sea levels due to the emerging trend of "climate gentrification." That dark warning is found in a new LeRoy Collins Institute research report that calls for thoughtful action and policies to address this looming displacement, which it says will occur as wealthier coastal residents push inland toward higher ground.
The report, "Addressing Climate Driven Displacement," says that as sea levels rise, lower-income residents living inland in vulnerable communities and counties are at risk of being displaced by this gentrification as more affluent and educated residents leave their coastal communities and look for safe housing inland.
The report candidly describes the "climate gentrification" process: "Those that are further inland are more likely to be displaced by higher income residents who eventually move inland in the process of relocating to higher ground. Many inland households with high displacement risk in Florida are likely to be in lower income and working-class neighborhoods. As these neighborhoods undergo redevelopment and investment, current residents will face increasing pressures to relocate, either voluntarily (eg. selling their homes and businesses) or involuntarily (eg. being evicted for redevelopment projects or being unable to afford increasing rents)."
As a result, the report says, Florida's cities, counties, and economy will face the dual crises of climate change and deepened affordable housing shortages.
"Not only will this affect low-income Floridians, it will also influence the drivers of Florida's economy," said Julio Fuentes, President of the Florida State Hispanic Chamber of Commerce. "As coastal land feels the effects of sea-level rise, Florida's development and tourism sectors will have to adapt. The displacement of lower-income Floridians could have a chilling effect on the service and tourism industries, which could be catastrophic for Florida's economy overall."
Although the major effects of rising sea levels remain decades away, the loss of affordable housing will occur continually. Researchers recommend affordable housing protections, as well as maps and toolkits for residents and advocacy groups.
"These are disturbing findings – but this early warning should provide the timely impetus to act with resolve, but not out of fear," said Dr. Lonna Rae Atkeson, executive director of the LeRoy Collins Institute. "We have to act now to protect the future of our coastal communities, including placing protections on affordable housing to ensure that Florida has a place for the vital workers, and their families, who support our economy."
So far, major investments are being made to protect areas with the highest economic values, thus assisting those who have the greatest means to adapt. If this trend continues, it will create an equity gap where those least able to adapt and most likely to be displaced are receiving the least investment.
In conducting the LeRoy Collins Institute study, researchers focused on three of the most populous and diverse coastal communities in Florida: Miami-Dade, Pinellas, and Duval counties. The research was conducted with a three-part methodology, using mapping to identify the most at-risk areas; policy analysis to analyze how coastal communities are planning for sea levels rising; and interviews to understand how the issue is being handled at the local level.
The full report is linked here.
About the LeRoy Collins Institute
Established in 1988, the LeRoy Collins Institute is a nonpartisan, statewide policy organization that studies and promotes creative solutions to key private and public issues facing the people of Florida and the nation. The Institute, located in Tallahassee at Florida State University, is affiliated and works in collaboration with the State University System of Florida. Named in honor of former Florida Governor LeRoy Collins, the Institute is governed by a distinguished board of directors, chaired by Lester Abberger. Other board members include executives, local elected officials, and other professionals from throughout the state.